NV Yellow Tail Bubbles
Tasting Notes:
Eyes: clear, pale lemon, large bubbles
Nose: clean, youthful, med intensity, tropical fruit, fresher than comparison wine (Cava), grapey
Mouth: off-dry?, more aggressive bubbles, med+ body, med acid, med+ length
All in all: Very good quality; drink now.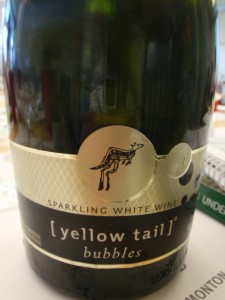 Yellow Tail is such an interesting brand. It's one of the only wine brands I knew before I started getting into wine (and more specifically, their Shiraz), and it's probably one of the brands that is well-known in the wine world. Winecouver states it perfectly – I would say that the touch of residual sugar (in the wines I've had, most notably the Shiraz and Bubbles) makes it so welcoming to the non-wine drinking masses, and combined with (what I would guess is) inexpensive winemaking and marketing so brilliant that it makes its way into marketing textbooks, you have a success that angers no one but the wine savvy, who make a Shakespearean grimace into the distance and wonder why people aren't drinking other wines. Yellow Tail (from what I've had, anyways) isn't bad wine per se – it's just horrendously boring, and more than often, a bad example of what a typical wine of a certain varietal should be. It's like the McDonalds of wine. It's not bad food, but it's not a great example of what a "standard" or "real" American burger should be like.
All finger-pointing aside, I noted that this sparkling wine was "good value if cheap", and that was before I knew it was Yellow Tail. My heart sank when the big reveal came, but whatever. Surprisingly decent if not good balance and intensity. And length. But sometimes all that shit doesn't matter and maybe you just need a good bubbly that everyone doesn't need to appreciate when everyone's half-drunk, anyways. No one cares about yeasty autolysis at a frat party or a YAY-gurrrrl-my-divorce-has-been-finalized-and-I'm-a-single-strong-independent-woman celebration.
Fun fact: I sabred a bottle of this at my friends house (for her farewell party since she's disappeared to Ireland for a year), even though the cap was disappointingly made of one of those peel-plastic things. It still worked.
Producer: Yellow Tail
Designation: Bubbles
Region: Australia
Sub-Region: N/A
Variety: ?
ABV: 11.5%
Vintage: NV
Tasted: June 11, 2012
Price: $14