2010 Bellingham "The Bernard Series" Old Vine Chenin Blanc
Tasting Note:
Eyes: clear, med lemon, legs
Nose: clean, developing, med+ intensity, mineral, yellow apple, spice, butter, oak, vanilla, wet wool
Mouth: dry, med+ body, med+ acid, med alcohol, med flavour intensity, med+ length, citrus, lemon, baked apple, butter
All in all: Very good quality: persistent finish, good structure, and a balance found in both the fruit and the secondary characteristics. Drink now, but has potential for short term ageing.
Identity Guess: Mid-priced (Riesling/Pinot Gris/Muscat/Gewurztraminer/Chenin Blanc) from South Africa; 2 years old.
Is really: Mid-priced Chenin Blanc from South Africa; 3 years old.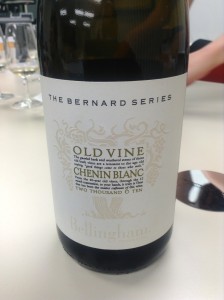 [Tasted during WSET Diploma class – Section 1 – Week 10]
I love Chenin Blanc. I'm not entirely sure why – perhaps because it's versatile, but in such a different way than Riesling or Chardonnay. Riesling noticeably varies most in its sugar; Chardonnay with its weight and flavours. It's interesting how Chenin can be an unpredictable fellow, producing sparkling wine with unripe grapes for example, sweet wines with slightly riper grapes, and then dry wines with even riper grapes. Or something like that. Even grapes affected with noble rot are quite common, as are late harvest versions.
I find Chenin Blanc exciting, but of course there are a lot of uninteresting examples out there. And, like Semillon, there are many premium producers (in the Loire) that make Chenin Blanc worthy for ageing, with a honeyed wet wool and nutty baked apple sort of way – but are indeed boring in youth, which is a shame.
By deduction and being the last wine, we knew we were tasting Chenin Blanc, but the oak and buttery characteristics, not unlike some Chardonnay, brought us straight to South Africa, where oak is more common for Chenin Blanc. It is similar to some Chardonnay, with softer apple tones and a interesting funky earthy woolly character.
This wine was very good quality for 25 bones. Persistent, structured, and balanced between the fruit and non-fruit components. But maybe I just love Chenin Blanc.
Producer: Bellingham
Designation: "The Bernard Series" Old Vine
Region: South Africa
Sub-Region: WO Coastal Region
Variety: Chenin Blanc
ABV: 14%
Vintage: 2010
Tasted: June 12, 2013
Price: $25