"This bitch is definitely going to order a Pumpkin Spice Latte": 2013 Bellingham "The Bernard Series" Vieilles Vignes Chenin Blanc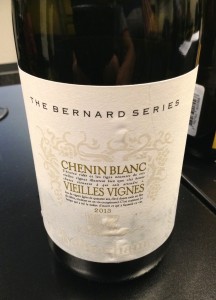 [Tasted during WSET Diploma – Unit 3  – Week 1]
I've had this wine in class before. And then I had it in a restaurant forgetting that I had it in class before. And then I had it in class again – and I thought the wine was fantastic all three times. Besides the change from "Old Vines" to "Vieilles Vignes", I'm stoked that my tasting notes were generally in the same camp. The first time around we were given 5 white wines to match with 5 different grape varieties so Chenin Blanc was basically a given, but this time around it was a little tougher.
I mean, you smell heavy oak and baked apple on the nose with that identical echo on the palate, and you immediately think new world oaked Chardonnay. You just do. Even if you're a super advanced taster and you knew it wasn't new world oaked Chardonnay, the thought has to have at least crossed your mind. It's like you see that one haughty scarf-wearing guy in the lineup one October when you're in the line for Starbucks, and it's like "this bitch is definitely going to order a Pumpkin Spice Latte and I bet he has an unforgivingly difficult hipster name for the barista to write on the cup". And even if he orders a grande dark roast and his name is Tom, you're like "I bet this bitch enjoys them anyways".
The South African style of Chenin Blanc tends towards the riper and powerful driven examples opposed to the tight Loire versions that can take years to open up. There's almost a parallel with new world oaked Chardonnays and tight white Burgundy.
And so I and whoever read their notes out for this definitely thought this was Chardonnay, but the key factor is the acid, something which Chenin Blanc is naturally high in. It's a nice alternative to a Chardonnay that might be better for a versatile food pairing (Thanksgiving, hint hint), and you still get that meaty texture for a white and that baked apple character, but with a frame of acid that keeps it fresh.
Speaking of Pumpkin Spice Lattes and Thanksgiving – this is a superb autumn wine which combines the weightier warmth in a cooler season and some cozy baking spice. It's no wonder why Pumpkin Spice Lattes are such a huge thing at this time of year, and I suppose it'll take South African Chenin Blanc years before it equates to such a thing, and I hope that it eventually does.
Tasting Note:
Eyes: clear, med lemon, legs
Nose: clean, developing, med+ intensity, butter, oak, nectarine, cream, sweet spice, vanilla, baked apple
Mouth: dry, med+ body, med+ acid, med+ alcohol, med+ flavour intensity, med+ length, butter, baked apple, cream nectarine, savoury finish, hint of bitterness, baking spice
All in all: Very good quality: The wine is concentrated and intense with its flavours, bringing the finish to a relatively long length. That being said, the wine could use a bit more complexity. Drink now: not suitable for ageing or further ageing.
Identity Guess: Mid-priced Chardonnay from Australia; 3 years old.
Is really: Mid-priced Chenin Blanc from South Africa; 1 year old.
Producer: Bellingham
Designation: "The Bernard Series" Vieilles Vignes
Region: South Africa
Sub-Region: WO Coastal Region
Variety: Chenin Blanc
ABV: 14%
Vintage: 2013
Tasted: October 6, 2014
Price: $25