2009 Pfaffenheim "Steinert" Gewurztraminer
Tasting Note:
Eyes: clear, med lemon, legs
Nose: clean, med intensity, developing?, tropical, mango, stone fruit, citrus, honey, sweetness, floral
Mouth: off-dry, med+ body, med- acid, med+ alcohol, med+ flavour intensity, med+ length, ripe stone fruit, spice, floral, rosewater
All in all: Good quality: Persistent, complex, and concentrated, but lacks some structure and the alcohol is a bit warming. Drink now; not suitable for ageing. (Perhaps slightly corked? The instructor has had lots of experience with this wine but it wasn't the same as she expected – perhaps not as aromatic and complex as it should be.)
Identity Guess: High-priced (Riesling/Pinot Gris/Muscat/Gewurztraminer/Chenin Blanc) from Alsace, France; 2 years old.
Is really: High-priced Gewurztraminer from Alsace, France; 4 years old.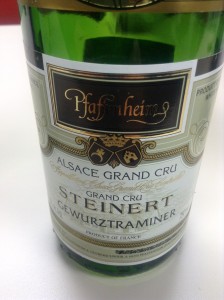 [Tasted during WSET Diploma class – Section 1 – Week 10]
I am no huge fan of Gew. I used to think I was, but classic, more floral examples of the grape have turned me away from it. Not that it's bad – I'm very well known in my workplace for not being a big fan of the floral elements. Elysian's jasmine beer, for example – I can appreciate it, but it's not for me. I bought a bottle from a well-produced Alsatian producer, that really had nothing wrong with it – but agreed to trade a co-worker for another bottle she had.
Apparently there was something up with this bottle – the instructor said that it may have been slightly corked, as it wasn't the same as the various times she's tried it before. I'm sure that means that there's less intensity and fruit on the nose which makes sense – there's no way a Gewurztraminer has anything but a med+ to pronounced intensity.
And that being said, this was more tropical than I remembered for a Gewurztraminer. Not just the lychee and ripe stone fruit – but there was an element of honey and mango, which was interesting. Probably the most delicious smelling of the flight, despite the TCA. I'll have to dish another 35 dollars to try this again, because the parts that I could smell were delicious.
Producer: Pfaffenheim
Designation: "Steinert"
Region: France
Sub-Region: Alsace Grand Cru AOC
Variety: Gewurztraminer
ABV: 13.5%
Vintage: 2009
Tasted: June 12, 2013
Price: $35