2011 Thierry Germain "Cep by Cep" Saumur-Champigny
Tasting Note:
Eyes: clear, med purple, legs
Nose: clean, med intensity, youthful, earthy, barnyard, brettanomyces, red fruits, strawberry, raspberry, floral, white pepper, leafy, pencil shavings
Mouth: dry, med body, med broad tannin, med+ acid, med alcohol, med flavour intensity, earth, grassy, raspberry, cherry, med length
All in all: Good quality: the funky brettanomyces character adds complexity to a fresh palate; the acidity is well-integrated, but the green tannins can put off newer drinkers. Drink now, but has potential for short-term ageing.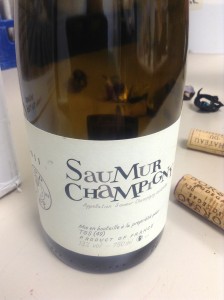 [Tasted during WSET Diploma class – Section 1 – Week 9]
I don't remember the last time I've bought and tried a Cabernet Franc – has it really been that long? It actually may have been around two years ago. The Loire grapes are all ignored and hipster anyways. I find that Loire Cab Franc (at the same price point) tends to be earthier, funkier, and sometimes more angular than its more expensive Pinot Noir nemesis, and I feel like some Pinot Noir enthusiasts can be converted to the similarly-bodied grape – if only it weren't for oft-difficult price points and the lack of attention. The New World produces fuller, darker versions, still with a characteristic green note.
But yes – the funk. Despite my fried smell detectors, there was an obvious brettanomyces funk on the nose, which isn't strange for the Loire, but is somewhat intriguing for an acidic wine, where brett thrives in higher pH (i.e. less acidic). And the acid is well-integrated, but the tannins, despite only being at the medium level, are quite mean and green, which can put off new drinkers – and is probably another reason why not all Pinot lovers can be converts. If only. I get excited for hipster grapes.
The refreshing lack of oak here is great for a lighter red (compared to the two main partners of a Bordeaux blend), which Cabernet Franc can be without the smouldering silkiness of a Pinot. When done right, Cabernet Franc can be a well-executed sassy wine. I wish that there were more in the BC market. I also wish that people cared more!
Producer: Thierry Germain
Designation: "Cep by Cep"
Region: France
Sub-Region: Saumur-Champigny AOC, Loire Valley
Variety: Cabernet Franc
ABV: 13%
Vintage: 2011
Tasted: June 5, 2013
Price: $20