2009 Château L'Argilus du Roi Saint-Estèphe
Tasting Note:
Eyes: clean, deep ruby, legs
Nose: clear, developing, med+ intensity, red fruits, tobacco, black fruits, oak, earth, rubbery earthy character
Mouth: dry, med+ body, med+ broad tannin, med+ flavour intensity, med+ acid, long length, med+ alcohol, earthy, black pepper, cassis, plum, oak, smoke, cinnamon, cedar, mint, floral
All in all: Very good quality: despite broad tannins, the structure is very well balanced and supports a concentrated and complex flavour profile. The wine is persistent and is almost proves to exist at a higher quality level. Drink now, but has potential for short-term ageing.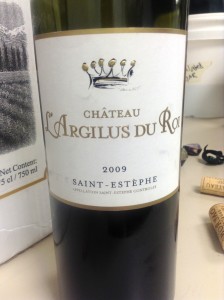 [Tasted during WSET Diploma class – Section 1 – Week 9]
And we arrive at the wine I was most choked about not being able to analyze to the fullest due to fried smell receptors, since I'm recovering from a cold – but I did the best that I could. What a shame, because this was a terrific wine. It's a confusion as to why I can hardly find information on this Château on both the internet and in Oz Clarke's most recent Bordeaux compendium. Ninja Bordeaux?
Of the four most known appellations of left bank Bordeaux, Saint-Estèphe is probably the hipster of the four – where Pauillac is known for its power and Margaux for its silkiness (and small Saint-Julien for his balance between the two), Saint-Estèphe finds character in what Oz Clarke describes as "an earthy scratch to the texture, no matter how refined the estate nor how well matured the wine might be". Though the appellation can also have the reputation for being the slowest to mature, the wines tend to be of great value – like this one, I would argue, at $48. Despite the time that some Saint-Estèphe needs, we do find more instant drinkers in riper years like this one, and a discussion in class about age was brought up. One argued that this would peak in about 5 years, where there would be a nice balance between fruit and famous aged Bordeaux characteristics – but it's hard to generalize when preferences differ.
Chosen to display a blend of three grapes we studied today (Cabernet Sauvignon, Merlot, and Cabernet Franc, and I suppose Petit Verdot), this wine was impressive with a good structure, long length, and a concentrated palate, equating to being on the higher end of "very good" or the lower end of "outstanding". Further complexity and a more harmonized alcohol would give it a higher quality, although it's already pretty damn good to begin with. I noticed a bit of that Saint-Estephe abrasiveness but that might have been the power of suggestion.
Oh – and despite my cold, I pretty much nailed all the non-flavour parameters. Insert fist pump here.
For some reason I find myself fascinated with this part of Bordeaux opposed to the others, and it's perhaps unsurprising that Tom Stevenson of The Sotheby's Wine Encyclopedia describes Saint-Estèphe as the "least sexy of the Médoc's famous four appellations". Well, great. Why am I not surprised?
Producer: Château L'Argilus du Roi
Designation: N/A
Region: France
Sub-Region: Bordeaux
Variety: 55% Merlot, 40% Cabernet Sauvignon, 5% Petit Verdot and Cabernet Franc
ABV: 13%
Vintage: 2009
Tasted: June 5, 2013
Price: $48