2009 Ravenswood Old Vine Zinfandel Lodi
Tasting Note:
Eyes: clean, deep ruby (or purple), legs
Nose: clean, med+ intensity, youthful, dried (yet vibrant) dried fruit, mineral, earth, white pepper, cherry, raspberry, bramble, plum, oak, herbal, spice, smoky, charred wood
Mouth: dry, med+ body, med acid, med fine  tannin, med+ alcohol, med length, red fruits, strawberry, sour cherry, med flavour intensity, raisin, vanilla, stewed, plums, cherries
All in all: Good quality: moderate complexity, but needs a little more tannins to support the structure and the alcohol is slightly imbalanced. Concentrated fruit. Drink now; not intended for ageing.
Identity: High-priced (Tempranillo/Barbera [d'Alba]/Sangiovese/Pinot Noir/Nebbiolo/Zinfandel) from Italy.
Is really: Mid-priced Zinfandel from California; 4 years old.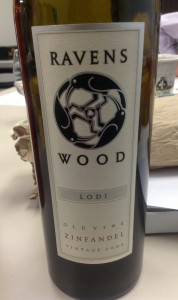 [Tasted during WSET Diploma class – Section 1 – Week 8]
Compared to the Ribera del Duero, this was much more vibrant. And vibrant is a weird word, because the fruit components in this wine were more of the dried variety. By vibrant, I perhaps mean more intense and spicy: a vibrating heart monitor-like line with a high frequency and low amplitude literally came into my mind when I first compared it to the Ribera del Duero.
My guess for Barbera d'Alba is weird but to me makes more sense than some other grapes I could've guessed – juicy red fruits were supported by some type of strength (which made me think Alba rather than Asti) but really, the characteristics were much more fruit-driven and less Old World-y to be Barbera. I'm just a wishful thinker and a Barbera evangelist.
I didn't expect this to be the Ravenswood Zinfandel – it's one of those labels or producers that you see way too much of and just assume that it won't deliver – but I wouldn't say that it was disappointing. Concentrated fruit was followed by a slightly imbalanced finish and a small lack in supportive tannin, but the moderate complexity was enough to designate a solid good quality.
I also overestimated the quality of this wine. I think I just like Zinfandel. I'm screwed.
Producer: Ravenswood
Designation: Old Vine; Lodi
Region: USA
Sub-Region: Lodi, California
Variety: Zinfandel
ABV: 14.5%
Vintage: 2009
Tasted: May 29, 2013
Price: $23