2008 Caymus Zinfandel
Tasting Notes:
Eyes: clear, deep ruby (to slight purple)
Nose: clean, med+ intensity, developing, spice, dried black fruit, oak, raisins
Mouth: dry, med+ body, med+ acid, med tannins, med to med+ length, high alcohol, med+ intensity, dried black fruit
All in all: Very good quality; can drink now, but has potential for ageing.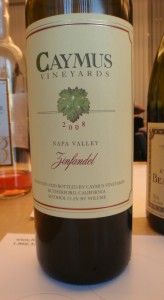 I distinctly remember having the exact same wine for the Intermediate level of WSET and it's so easy to see why a relatively new wine drinker (especially someone more akin to the more masculine and hearty grapes), would like something like this. This is an intense, big, and well-concentrated wine that made me fall in love with Zinfandel, much to the dismay of other wine enthusiasts who gave me a look whenever I told them Zinfandel was my favourite grape (at the time). Unfortunately, it was like a love never re-discovered, because as a new wine drinker back then, I was ignorant of the fact that cheap, good, and concentrated Zinfandel doesn't exist or is hard to find. Through consumer patterns, I often find that Zinfandel is a polarizing grape that I'm almost afraid to suggest to people in fear of a 1/2 chance of automatic disgust due to some form of negative reputation. Quite ironically, the grape almost grows in the same chancy fashion: the individual berries in a bunch of Zinfandel grapes ripen at different times, often resulting in overripe grapes if one has to wait for all of the berries to be at least acceptably ripe: such a gamble, and thusly I'm calling Zinfandel "the Gambler" grape. Subsequent adventures in Zinfandel land have made me fall out of love for the variety (or maybe I haven't had enough), but this is the wine that always makes me rediscover its masculine charm and potential.
Producer: Caymus
Designation: N/A
Region: USA
Sub-Region: Napa Valley, California
Variety: Zinfandel
ABV: 15.2%
Vintage: 2008
Tasted: May 27, 2012
Price: $46