WSET Diploma – Section 1 – Week 5
Oh my Jancis. This pizza of a week has gone by so fast that I hardly remember what the toppings were.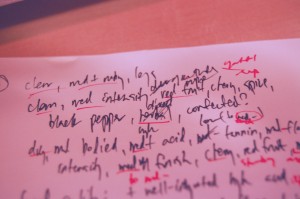 My main free days include Friday, Monday, and Tuesday, meaning, realistically, that I should have at least half of those days dedicated to WSET studying and say maybe half of it for fun, while all other studying has to be squirrelled away before or after work. The material for this week was the largest section for the Viticulture unit and so I didn't get the readings thoroughly done, so I'll have to catch up somehow, even though this Friday is self-proclaimed beach day with the friends and I'm excited because I'm making experimental sandwiches. Experimental sandwiches. You can't not enjoy the beach on a beautiful day in a month that high schoolers won't have infested yet.
I'm glad these Fridays are having a pattern. Last Friday some friends and I decided to give the first season of The Walking Dead a go. I wasn't too hot about it, and we turned into one of those jerky groups of people that pointed out logical inconsistencies every moment we could. My psychologist-in-training friend freaked out over any attempted biological explanation of the disease, and I mostly questioned everything in a loud voice while stuffing my face with microwave popcorn and leftover Christmas candy.
Can we also talk about the weather this week? Monday was the warmest by far, with nights so warm that an open window didn't help, which only made me happy. Continue the streak, mother nature. Continue the streak like I continue my streak for knocking things over and breaking them. I've been good this week.
And on the topic of weather and climate, this week's WSET Diploma class was concerned with everything we didn't cover in terms of viticulture last week. Mostly vineyard management. Training systems, rootstocks, choosing sites, parasites, harvesting, soil, and the works. Mostly glad that we didn't cover a lot of what I didn't read yet.
Much like last week we tried two wines. Although last week we tried two wines with the same general recipe from opposite ends of the world, it was the opposite this week, and we tried two wines from the same producer that differed in terms of terroir and production techniques.
I'm still deathly afraid of reading tasting notes out loud so when the instructor asks for volunteers, not only do I not make eye contact but I put some wine in my mouth and swish it around and pretend I'm seriously in the moment (which I am, though: "oh GOD, is this medium acidity or medium PLUS acidity?!"). My next technique will involve me slowly ducking underneath the table. Hold your applause.
2011 Ruffino Chianti
2006 Ruffino "Riserva Dicale Oro" Chianti Classico Riserva