2006 Ruffino "Riserva Dicale Oro" Chianti Classico Riserva
Tasting Note:
Eyes: clear, deep garnet, legs
Nose: clean, med+ intensity, developing, spice, oak, stewed red fruit, sour cherry, oak, dried herbs, cola, cedar, leather, smoke, prune
Mouth: dry, med+ bodied, high acid, med tannin, med+ flavour intensity, med alcohol, med+ length, sour cherry, spice, leather
All in all: Very good quality: the components are very well balanced. The high acidity is integrated with the concentrated and complex flavours. The length is long, but the alcohol was slightly imbalanced. Drink now, but has potential for ageing.
Identity guess: High-priced Chianti from Italy; 4 years old.
Is really: Premium Chianti Classico Riserva from Italy; 7 years old.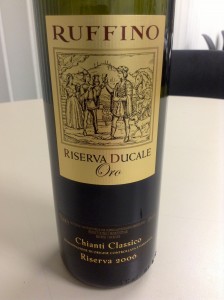 [Tasted during WSET Diploma class – Section 1 – Week 5]
In theory I've never really been hot about Chianti. Acidic sour cherry, herbs, and leather always seemed so boring to me, but I'm not surprised that I really liked this wine. Acidity is underrated. I don't think Chianti is, though –  next to Bordeaux, it's one of those regions people know about and it's certainly not rare for a customer to ask for one.
And because I'm not hot for Chianti, I can never really give much advice in that area. I can't help it! Nah, sorry, I don't know what that Chianti is like – I've only ever had that $17 dollar one over there one time from a tiny plastic sample cup that I had to spit out because I was working.
To me, aged Chianti like this is very regal, rustic, yet very present – sort of like a Jaime Lannister sort of character.
But really – it's nice having a glass of secondary characteristics. There's something about a burst of leather and wood that's simultaneously rustic and ironically refreshing. The riper and dense fruits were very nicely balanced with the non-fruits, and the finish was relatively long and savoury.
Other guesses from the class included a Tempranillo-Garnacha blend and a Northern Rhône blend.
Now I really want aged Chianti. For now I'll stick to other ways to get my fill of leather and wood. Okay, fine. I planned that one.
Producer: Ruffino
Designation: "Riserva Dicale Oro"; Classico Riserva
Region: Italy
Sub-Region: Chianti Classico DOCG, Tuscany
Variety: Sangiovese
ABV: 13.5%
Vintage: 2006
Tasted: May 8, 2013
Price: $50