2011 Ruffino Chianti
Tasting Note:
Eyes: clear, med+ ruby, legs
Nose: clean, med intensity, youthful, ripe red fruit, cherry, spice, black pepper, dried herbal notes, slight confected note
Mouth: dry, med bodied, med+ acid, med- tannin, med- flavour intensity, med alcohol, med- finish, cherry, red fruit
All in all: Good quality: despite simple characteristics and a relatively short finish, this wine had a well-integrated high acidity that provided structure wish fresh intensity. Drink now; not suitable for ageing.
Identity Guess: Mid-priced Chianti from Italy; 2 years old.
Crossed that out like a dingus and instead guessed: Mid-priced Beaujolais-Villages from France; 2 years old.
Is really: Mid-priced Chianti from Italy; 2 years old.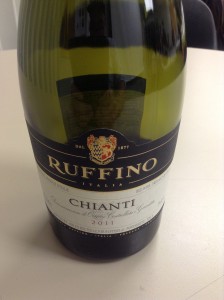 [Tasted during WSET Diploma class – Section 1 – Week 5]
I always thought that tasting wines comparatively always helped – and it does – but the strength can also be a pitfall. Unlike last week where accidental bias jumbled my notes like throwing a blue crayon into the dryer, I legitimately guessed Sangiovese this time, except maybe I had Italy on the brain because I had spaghetti for dinner (shh, doesn't count). But it made sense: cherry-dominated bright red fruits, some spice, and a slight herbal note. Some deemed it a tad sour but I thought the acidity was better-integrated than other acidic wines I've had.
The problem, though: when I came back to the wine, the fruitiness was much more pronounced. I raised an eyebrow and noticed a slight confected character which I don't doubt (but at the same time, hadn't noticed too much before), but I realized that my tasting note could vaguely represent some form of Beaujolais(-Villages) with partial carbonic maceration giving way to such flavour. Plus that black pepper thing (which I think that I see more in New World Gamay).
And I know that the fact that the second wine was a Chianti might have been a bit of a giveaway, but I was being optimistic, which is a weird thing for Beaujolais even though it, well, tastes optimistic. Guesses by other students included Dolcetto and Gamay.
The wine itself was simple and fresh. Bright and short sour cherry with whispers of further dried herbal complexity.
Producer: Ruffino
Designation: N/A
Region: Italy
Sub-Region: Chianti DOCG, Tuscany
Variety: Sangiovese
ABV: 13%
Vintage: 2011
Tasted: May 8, 2013
Price: $16