2011 Barton & Guestier The Pairing Collection "Lobster and Shrimp" Muscadet Sèvre-et-Maine
Tasting Note:
Eyes: clear, pale lemon (almost water white), legs
Nose: clean, med intensity, youthful, citrus, lime, slight green vegetal note, green apple
Mouth: dry, med+ acid, med- alcohol, med- body, light flavour intensity, med length, citrus, lemon, mineral
All in all: Good quality: light without being dilute with good med+ acid structure despite elegance. The flavour characteristics are simple, though, and the alcohol isn't perfectly woven into the wine. Drink now, not suitable for ageing.
Identity guess: Mid-priced Chenin Blanc from the Loire Valley, France; 2 years old.
Is really: Mid-priced Muscadet (Sèvre-et-Maine) from the Loire Valley, France; 2 years old.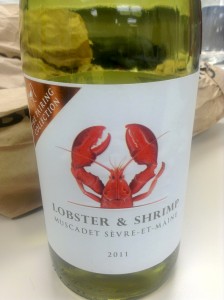 [Tasted during WSET Diploma class – Section 1 – Week 3]
It's been a long while since I've had Muscadet. It's one of those wines that I feel is made for food, and its character with its lonesome – both in theory and in practice – comes off as boring to me, even though I wouldn't deny a glass of this. Such a wine pairing comes alive with certain seafood (apparently… I've never actually tried this), but I can see a good quality fifteen-dollar wine going with a sunny day as well. Anything, really. Who are we kidding?
This wine was chosen to display the fact that even AOC wines can by a bit campy and marketing-driven with their labels, especially in a region, like France, where AOC wines can be considered more traditional and subtle; that is, people don't need the marketing, because people will automatically come to them with what people see as the regional gold standard for wines (which is an idea that is changing for this scene).
And why not? The label isn't vomit-inducing by any means, unless you have a fear of lobsters. Otherwise, the packaging is neat, eye-catching, and suggestive. I would deem this some form of a marketing success, and the wine wasn't bad either.
The was an example of a good quality wine, and strictly a good quality wine; not "acceptable", and not "very good". Simple, but had plenty of freshness and structure, and although lacking further complexity, it still spoke to a place. The mineral tones were evident and balanced on this guy, unlike an overwhelming stony savoury character that takes over the palate in other mineral-driven wines.
The Loire guess wasn't too hard, but Muscadet was my second guess. I sometimes find that Loire Chenin can be light and snobby in youth, hence the guess. I have no problem drinking more Loire wines to learn.
Producer: Barton & Guestier
Designation: The Pairing Collection "Lobster and Shrimp"
Region: France
Sub-Region: Muscadet Sèvre-et-Maine AOC, Loire Valley
Variety: Melon de Bourgogne
ABV: 12%
Vintage: 2011
Tasted: April 24, 2013
Price: $15