2009 Château La Grande Clotte Bordeaux Blanc
Tasting Note:
Eyes: clear, med- lemon, legs
Nose: clean, med+ intensity, developing, candied, banana, guava, toast, butter, baked apple, herbal
Mouth: dry, med+ acid, med+ alcohol, med body, med flavour intensity, butter, oak, toast, overripe apple, melon, med+ finish
All in all: Good quality: although simple (at the time being, anyway) and not particularly intense, this wine speaks to a place, the components are balanced and structure, and the finish is relatively long. Can drink now, but has potential for ageing.
Identity guess: Inexpensive Chardonnay from Chile; 2 years old.
Is really: Premium White Bordeaux from France; 2 years old.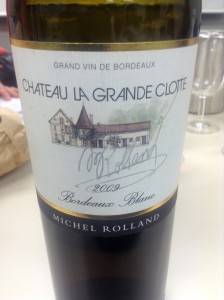 [Tasted during WSET Diploma class – Section 1 – Week 3]
I'm embarrassed. I need to drink more white Bordeaux – the only one I've ever had was 100% Sauvignon Blanc, so that's the only picture I've ever painted for myself. So really, this is the first dry French Sauv-Sem blend I've ever had. Well, I did remember almost trying one in WSET Advanced class, but it was oxidizzled. Every other Sauv-Sem blend I've had was from somewhere vastly different – say Chile, or Australia.
The nose was really interesting. I did get these subtle nuances of ripe fruit, which is probably where I got that candied (but not sloppy-candied, i.e. not confected) character from, with an interesting herbal note that was not unlike the green section of the produce market – fresh, but subtle and elegant. Which I can only guess was from the Sauvignon Blanc.
This is a wine that's more marketed towards the wine-savvy and the Bordeaux collectors. The place "Bordeaux", the name "Michel Rolland", and the 2009 vintage are all over the front label. The $50 price screams "buy me, I'm a serious wine", and it is. What more is that this wine received 90 points from Robert Parker. Apparently this was bought en primeur.
Lesson: drink more things. Cheers to that.
Producer: Château La Grande Clotte
Designation: N/A
Region: France
Sub-Region: Bordeaux
Variety: Sauvignon Blanc, Pinot Gris, Sémillon, Muscadelle
ABV: 14%
Vintage: 2009
Tasted: April 24, 2013
Price: $50