Wines to pair with people that you want to die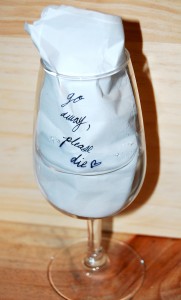 One of my best friends is convinced that I am a 30-year old stuck in a young adult's body, but I'm pretty sure that I'm 75% bitter old man.
It's a full moon. Perhaps I turn into a bitter old man instead of something crazy and cool like a werewolf. Instead, I'm a shitty Sirius Black. Thanks, God Rowling. Thanks for writing this into my book of life with all the other shits and giggles.
I swear, I'm actually pleasant. I swear!
In case you're in an inescapable situation where you're pretty much suffering, and all you want to do is curl up in a corner and hate people, have one of these wines on hand. No Sauvignon Blanc. Sauvignon Blanc is too fucking happy.
1) (German) Riesling
For when you need a bucket of ice cream in a bottle, there's German Riesling. Don't get me wrong – these wines and comfort foods don't have too much in common except for some occasional sweetness, and many of these wines can have a nice bright acidity to them as well. These bottles are also long and slender than the more common Bordeaux or Burgundian-shaped bottles. Perfect for swinging at people's heads!
Do I smell a lawsuit? Nope, it's just Riesling! Along with their drier Australian counterparts, Riesling can also attain petrol notes with age. It sort of reminds you of all the gasoline you could use to burn his or her house to the ground – it's like you're swirling hatred in a wine glass (or a chunky coffee mug). Laugh maniacally every 45 seconds so you can be left the fuck alone. If that doesn't work, keep drinking.
German Rieslings can oft be expensive, but make that bitch PAY for it.
Try:
2011 Weingut Max Ferd. Richter Estate Riesling ($30)
2009 Joachim Ress Riesling ($17)
2) Cava
Long story short: the Spanish version of Champagne.
As a result, you can usually get a bottle that has the same amount of pressure as a normal bottle of Champagne (6 atmospheres). If you really want to amp up the fun, you can sabre the cork right into the face of your enemy. If that fails, that's fine, because you already have some sharp object you attempted to sabre the bottle with, and you can just drink that shit straight from the bottle. If you succeed at the sabre,  you have that and a bottle of alcohol with a sharp end. I don't know, man. Win-win. For everything else, there's burping at random times from the carbonation. Be sure to blow it into the face of your adversary. Embrace the disgusting.
You get some toasty notes from the process of a traditional method sparkling wine; in addition, a usual proportion of Xarel-lo grapes can give Cava a bit of a complex rubbery smell. It's like the scent when you're speeding away with that shitty car of his.
Cava is cheaper than Champagne. So is his jank ass. Let's be honest, here. The sound of the bubbles nucleating from your glass is more interesting than that conversation you're currently having.
Hey, my Cava is telling you to shut up. So, like, stop talking. Stop trying to make _fetch_ happen.
Try:
Villa Conchi Cava Brut Seleccion ($20)
Jaume Serra Cava Cristalino Cava Brut ($18)
3) Vodka
Fuck it. (SHOTS!)
Try:
The cheap stuff
4) Water
Calm down. Let's keep going. (okay.)
Try:
The tap water (free)
5) Cabernet Sauvignon or Syrah
Ah. the best Cab Sauvs for this moment are made in that true full-bodied and ripe ready-to-drink style, sort of like a blanket of mouth-sticking warmth. I'm sorry, are you talking, I couldn't hear you over this glass of Chilean deliciousness.
Syrah is also nice, too. Although known for a masculine black pepper note, I can think of a couple that also smell like smoke and campfire, for when more mental imagery of burning things is necessary. Actually, the first wine I ever decided to take notes on was a 2007 Burrowing Owl Syrah (which one of my best friends bought me), and one of the first aromas I recorded down was "campfire". This was back when I knew nothing about wine, and it's clear that I was subconsciously out to spread hatred with wine from the very beginning. You must be so glad to know me.
"Accidentally" spill these on your enemy. Make them do whatever you want by bribing with your bottle of Wine Away. Stains for pains, bro. Enjoy your splotch of Shiraz. Seriously, though. Ugly shirt.
Try:
Punto Final Cabernet Sauvignon ($20)
Alias Cabernet Sauvignon ($18)
Burrowing Owl Syrah ($38)
2007 Graham Beck The Game Reserve Shiraz ($16)