2009 Joachim Ress Riesling
Tasting Note:
Eyes: clear, pale lemon
Nose: clean, med- intensity, developing, stone fruit, hint petrol, juicy, hint tropical, vanilla
Mouth: off-dry, med- body, med acid, med- length, med intensity, med- alcohol, stone fruit
All in all: Good quality; drink now.
Edit (July 7th, 2013) – either some bottle variation, or a colder wine temperature, but this was a solid med+ acidity right out of the fridge.
First and foremost, I was happy to see – or smell, rather – some level of petrol in this wine. Disappointing was the lack of intensity and complexity.
The touch of sweetness was nice, and was balanced with a decent amount of acid. I would have loved to see more acid and complexity, but this is a solid wine that was rooted to the Old World elegance while appealing to a broad audience. Despite its lack in acidity, there was some citrus-y kick in the back palate which saved from cloy.
What what's with the muted Rieslings I've been having, lately? I suspect either my expectation for Riesling or my nose – is broken.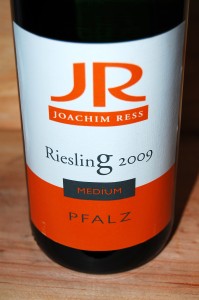 Producer: Joachim Ress
Designation: Medium
Region: Germany
Sub-Region: Pfalz
Variety: Riesling
ABV: 11%
Vintage: 2009
Tasted: March 21, 2013
Price: $18