2011 Weingut Max Ferd. Richter Estate Riesling
Tasting Notes:
Eyes: clear, pale lemon, pale rim
Nose: med intensity, youthful, mineral, red apple, notes of stone fruit, floral, honey
Mouth: medium sweetness, light bodied, med acidity, med length, med intensity, low alcohol, a little spritzy
All in all: Good quality; drink now, but can age.
What's up with the 2011 vintage? I sheepishly display my confusion and partial sophomoric knowledge on German wines here, in part because a lot of the German wines I come across are too expensive for me. I've also noticed that Riesling has been in a bit of a negative light to the regular consumer, and it's all about the dry. Riesling is as out as much as Coco Rocha is in, and despite its food pairing versatility, people avoid it like the plague because they think it'll be like juice. The university crowd likes this – I introduced Riesling to a group of university students and they went forth and spread their knowledge to their fellow brobots.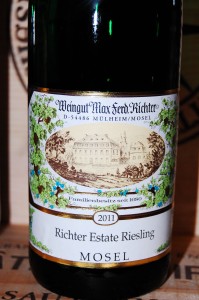 Back on topic – the vintage. Among other 2011 German Riesling vintages (most notably the 2011 Selbach Riesling and the 2011 Rudolf Muller Riesling), I've noticed that these wines lack the aromaticity that I expect from Riesling. Perhaps I don't drink enough Old World Riesling to truly understand the character in its European homeland.
Here, we have a wine with a strength that lies in its elegance. Delicate aromas are vague at first, but reveal themselves as sweet (but not canned) yet restrained fruity characteristics with a flowery nose. A restrained minerality blankets the whole.
But I'm really just trying to be poetic, here. It smells like high class fruity sugar water with some pebbles mixed in.
The palate is light and has a brush of medium sweetness that jumps away by a rather unexpected modest amount of acidity and a solid amount of minerality that shines at the back of the tongue. The acidity is not as high as I expected but is present enough to barely negate the cloy. The length is average, and the little bit of tangy citrus spritz is reminiscent of an applause that doesn't seem to reach its plateau.
Elegant and unassuming, but I almost feel like there's something missing, besides a slight lack in acidity. Ageing might be an interesting thing to play around with this wine because I feel like there are characteristics that need developing. I catch the slightest bit of petrol but that might be wishful thinking.
Producer: Weingut Max Ferd. Richter
Designation: Richter Estate Riesling
Region: Germany
Sub-Region: Mosel
Variety: Riesling
ABV: 10%
Vintage: 2011
Tasted: March 6, 2013
Price: $30