NV Finca del Rey Malvasia Moscato
Tasting Notes:
Eyes: clear, med- lemon, pale rim
Nose: med intensity, youthful, canned stone fruit, hint of mango, floral
Mouth: dry, light to med- body, low acid, med- length, low to med- intensity, med- alcohol
All in all: Good quality; drink now.
Bought this after the 2013 Vancouver International Wine Festival on March 1st because I was getting a little tired of spitting things. I've seen this bottle for a while and its look has changed from a faux-classic cream-coloured label (with an indication of Malvasia Muscat, now to Malvasia Moscato. Hmm?) to something a little more plain and bold in a weird way. There's something about the bottles that tell me what they're like on the front side – that turn me off, but it's not a bad marketing technique for the lower-priced bottles.
Also, they misspelled "floral" and it says "florat". Mmm, Florat tones!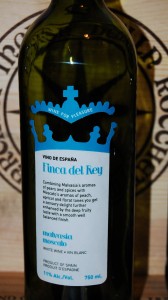 I've never had a Malvasia outside of Madeira. From what I know, it's low in acidity and has floral and stone fruit aromas in its still form, so it understandably blends well with Moscato. This wine gains points for typicity: I smell canned stone fruits with a bit of a tropical kick and some flowers, but two colleagues agreed that the wine was drier – and even less fruity – than we expected.
The palate definitely lacks more than a bit of depth. The wine seems almost watery, and the lower acid of both grapes is evident, making it a "smooth" wine, so I guess the label wasn't entirely lying. The disjointed aromatic, watery, and low acid leads me to think that this wine is made for sipping. It should also be served as cold as possible to at least give an illusion of some zippiness. Or add ice and a lemon! Seriously.
This isn't a terrible wine. It doesn't shout bargain, but it certainly whispers it.
A couple of days later, one of my colleagues got a bit of this hairspray character on the finish which I didn't really taste, but it seemed to disappear once I superchilled it.
Producer: Finca del Rey
Designation: N/A
Region: Spain
Sub-Region: Valencia
Variety: Malvasia, Moscato
ABV: 11%
Vintage: NV
Tasted: March 1, 2013
Price: $11