That extra in that one movie: NV Barón Cortes White
Tasting Note:
Eyes: clear, pale lemon, legs
Nose: clean, youthful, light intensity, floral, mineral, nuances of stone fruit and melon, slight greenness
Mouth: dry, med- body, med+ acid, med- alcohol, med- length, savoury stony vanilla finish, med- intensity, citrus, lemon rind, melon
All in all: Acceptable quality: the wine has some form of balance and is quite drinkable, but lacks some character, intensity, and concentration. Drink now; not suitable for ageing.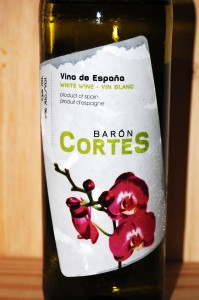 I will always give cheap bottles a chance, just like I give shitty people a chance. Also, I don't trust the backs of bottles.
But really. This wine isn't as bad as I thought it would be – although in the same price range of the (also non-vintage) Finca del Rey Malvasia Moscato, this wine exchanges its character for a more balanced mouthfeel. I was surprised at the decent amount of acidity I got despite the lack of distinct character. It's sort of like that movie extra who doesn't stick out and appears on the screen for no more than 5 seconds.
What comes to mind are those who need the TV quietly on the the background or need the subtle mutters of a café in order to concentrate on studying or reading or whatever. This wine mirrors that sort of subtle smoothness that doesn't veer into the depths of a crying baby that distracts you from your café studying time. It's there, but it's not there.
Simple, balanced, but far into the background.
Producer: Barón Cortes
Designation: N/A
Region: Spain
Sub-Region: N/A
Variety: ???
ABV: 11%
Vintage: NV
Tasted: Oct 23, 2013
Price: $10