2010 Finca La Amalia Malbec Reserva
Tasting Notes:
Eyes: clear, deep ruby, tinge of purple
Nose: med+ intensity, developing, raspberry, oak, pepper, jam, touch of barnyard, blueberry, spice
Mouth: dry, med+ bodied, med tannin, med+ acid, sour cherry, med- to med length, med+ intensity, med+ alcohol
All in all: Good to very good quality; drink now, but can age.
Many of my co-workers have come to agreement that Malbec is the new Shiraz in terms of its trendiness. I think it's true – all too often wines made from Shiraz or Malbec can be made in a jammy, fruit-forward, and crowd-pleasing style with lower complexities. That being said, there exist Malbecs that aren't just simple fruit bombs. I can tell Malbecs are still a little bit under the radar since my computer thinks Malbec isn't a word.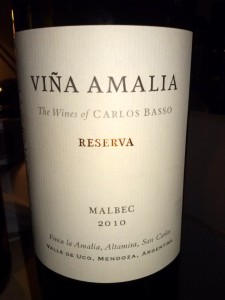 I guessed the country, varietal, and price on this one quickly – but it may be heavily due to the fact that I primed my co-worker by mentioning that I was craving a full-bodied and fruity red. On the nose: ripe raspberry and blueberry notes, with a touch of that stewed sweaty barnyard character. The palate revealed a tongue-coating blueberry pie-like acidity along with a dense body and just the right amount of grip.
This was well-balanced with a decent amount of complexity. The picky side of me kicks off points for length, although I would definitely buy this again. It's interesting to note that this received 91 points in Wine Advocate.
Producer: Finca la Amalia
Designation: Reserva
Region: Argentina
Sub-Region: Valle de Uco, Mendoza
Variety: Malbec
ABV: 14%
Vintage: 2010
Tasted: November 10, 2012
Price: $25 (Liberty)