Tall, dark, handsome, suave, flirty, foreign: 2010 Lagarde Malbec DOC
Tasting Note:
Eyes: clear, deep purple, legs, (high viscosity)
Nose: clear, pronounced intensity, youthful, plum, wood, spice, black pepper, earth, dried cranberry, cherry, red fruit, black fruit, leather, hint of dark chocolate, blackberry, hint dried floral, blueberry
Mouth: dry, med+ body, med acid, med fine tannin, med+ intensity, med length, high alcohol, bramble, oak, wood, red fruit, cherry, cranberry, cherry pith, floral, hint of dark chocolate
All in all: (Very) good quality: the wine has a concentrated and punchy Malbec character but still retains some sort of finesse. The alcohol is well-balanced, and further complexity would drive this wine to be of higher quality. Drink now; not suitable for ageing.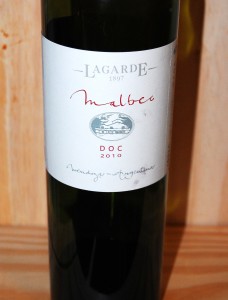 While saving up for school until the end of the 2013 year, I found myself thinking that working full time until the next semester was a good idea. Which it probably is. I really don't mind the disjointed 1-day weekends because I go crazy after not having human contact after 2-day weekends (especially now that most friends are in exam mode), especially with the whole saving-money-and-don't-go-out sort of thing. So my unexpected 2-day weekend was met with a half-finished blog post, nothing, Project runway, more nothing, and a decision to open this Malbec. Because I was strong enough to not drink anything yesterday (up until that pisco + orange juice experiment) and because I feel like I haven't truly relaxed for the past couple of days. Which is dangerous when that thought changes once you open a bottle of $40 wine in solitude.
At first I was not impressed with the wine. Initial upfront fresh earthiness upon opening a wine always gives me paranoid thoughts of it being corked, but I let the wine open up and it delivered. On the nose, the Malbec is dominated with s spectrum of punchy fruit along with an earthiness and slight smokiness – the wine has been aged for 12 months in French oak so this is unsurprising. The peppery oakiness wraps around a prominent dark cherry, dark fruit, and slightly dried floral and raspberry character, opening up to hints of leather and dark chocolate. The deep fruit resides well with the earthy components, both being quite present.
The palate is much more expressive than the nose, with vibrant and ripe fruit characteristics that echo the fruits on the palate. What's interesting to me is that we expect a mouthful of viscous syrup with the whopping 14.5% (!!!) alcohol, but the wine retains some level of finesse without loss to concentration. Structure is on the medium side, which unwinds the knots on the deep fruit flavours and silky texture. Which is exactly what you want on a night when all you're doing is wearing the same thing you were wearing 48 hours ago while having back to back Project Runway marathons. Because you can.
The ripe fruit contrasts with the slight extracted-tasting bitter finish. Although this might seem like a championing excuse, I feel like this prevents the wine from being too cloying. The alcohol is well-balanced.
I had to warm up to this Malbec. I was literally craving an overextracted viscous wine, but this demonstrated the difficult balance between ripe, warm-climate reds without over-sleazing the wine. I was undecided between "good" and "very good", but I eventually landed on the former category, though on the higher side.
Tall, dark, handsome, suave, flirty, foreign. Throw in some further barnyard complexity and you'd have a hunky farmboy, really.
Producer: Lagarde
Designation: DOC
Region: Argentina
Sub-Region: Lujan de Cuyo DOC, Mendoza
Variety: Malbec
ABV: 14.5%
Vintage: 2010
Tasted: December 5, 2013
Price: $38