2011 Finca La Amalia "Dos Fincas" Malbec
Tasting Note:
Eyes: clean, med+ ruby, legs
Nose: clean, med+ intensity, youthful, bright bramble fruit, blueberry, blackberry, smoke, spice
Mouth: dry, med body, med acid, med coarse tannin, med alcohol, med length, savoury finish, lush
All in all: Good quality: balanced on the palate (except for alcohol), and has elegance. Although not a fruit bomb (which is common for many inexpensive Malbec), it's missing complexity that would take it to a higher quality level. Drink now; not intended for ageing.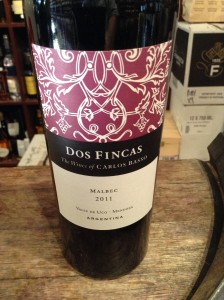 What an interesting little Malbec. For a grape that's rising in popularity, more and more inexpensive fruity bottles are popping up all over the market. It's not rare that I see the everyday folk looking for one, and sometimes customers look for another regular bottle instead of a Fischer Price-esque My-First-Malbec sort of dealio.
And this is exactly what this wine is. It's not a confected splatter of fruit, but it's not the complex and exciting Malbec that we can see for higher price points. It's more of a stepping stone Malbec, letting go of its fruity training wheels and instead retaining clean balance and a blank canvas as positive points, letting you fill your own imagination of what Malbec can do when coaxed and cared even further.
I can see people digging this. It's much more poised whereas something like Finca Los Primos likes to drunkenly dig its feet into the mud.
Producer: Finca La Amalia
Designation: "Dos Fincas"
Region: Argentina
Sub-Region: Valle de Uco, Mendoza
Variety: Malbec
ABV: 14%
Vintage: 2011
Tasted: April 2013
Price: $18