Amarone in the streets, Recioto in the sheets, Raboso if you cancel on me.
I can now cross Utah off the list of places I've been, y'all. Apparently the aggressive snowfall stopped for the 24 hours a colleague and I went to Park City for a work thing, so the snowy mountains were a nice distraction from the frigid air I sometimes despise. Anyways, I got sick when I got back, because the elevations of Park City actually can allegedly fuck you up. I didn't believe our driver from the airport, but there you go.
I always recall a particular Veneto 2014 wine sesh (damn, was it 2014?!) where we did the typical run of Veneto wines along with a wine made from the relatively obscure Raboso grape, which basically means "angry" – maybe due to its big tannic bite. I've got one more set of notes on Friuli-Venezia Giulia to post after this, but damn. The first part of the Italian Wine Scholar exam sure made a damn bottle of Raboso of me, after realizing I had consciously decided to spend studying more sections than others. I'm glad I know what to expect when part 2 of the course starts up again in a couple of weeks, but damn. Not having to obsess over bricks of flash cards is fucking nice. For the record, it was all eye twitch galore when even a Master Sommelier admitted he wouldn't have passed the exam without taking the course first.
Franciacorta is the obvious answer to what bottle I should celebrate if I pass, but part of me feels like indulging in Prosecco and McDonalds will more than suffice.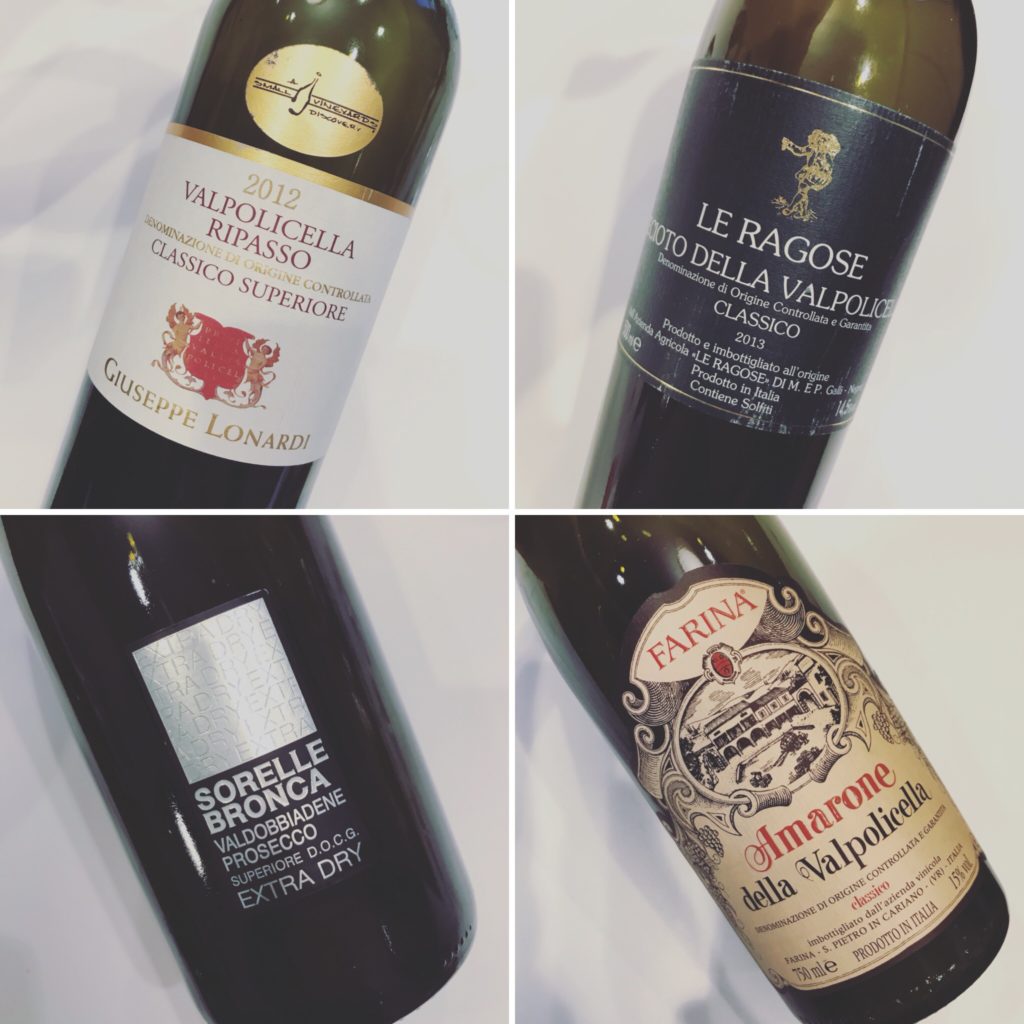 Sorelle Bronca Valdobbiadene Prosecco Extra Dry Superiore (Veneto, Italy) Feb 2018. $20 USD.
Very pale lemon-green. Beautiful chalk and mineral-laden pears and white flowers. Dry but with ripe fruit hidden by zesty mousse and minerality. Playfully well done. 13 g/L RS.
Cantina del Castello 2015 Soave Classico, Pressoni (Veneto, Italy) Feb 2018. $19 USD.
I feel that a large majority of Italian whites slightly overdo this "almond" description, but Soave always does it most obviously for me. There's also hints of lemon, dried herbs, and white flowers, but the marzipan-y almonds take the center stage. Creamy and nutty but cleansing and savoury, ending slightly bitter. Underrated queen. 80% Garganega and 20% Trebbiano di Soave (Verdicchio). 3 months of ageing on the lees.
Corte Gardoni 2015 "Le Dontane" Bardolino (Veneto, Italy) Feb 2018. $14 USD.
Pale ruby and youthful. Unserious aromas of spice, black cherry, and a hint of sea air bring expected freshness on the palate. Soft, yet surprisingly concentrated. Pro tip: chill this a bit before guzzling. 60% Corvina, 30% Rondinella, and 10% other local varieties.
Giuseppe Lonardi 2012 Valpolicella Ripasso Classico Superiore (Veneto, Italy) Feb 2018. $24 USD.
A much deeper ruby than the last. Chocolate-covered black cherries, earth, leather, and Twizzlers. More spice comes through on the palate, and tannins are gentle enough to let the chocolate and fruit shine through the acidity. Savoury ending. 75% Corvina, 20% Rondinella, and 5% Molinara. Aged for 24 months in French barrels.
Remo Farina 2012 Amarone della Valpolicella Classico (Veneto, Italy) Feb 2018. $52 USD.
Syrah almost comes to mind with this meaty stew of a glass, where intense and developing aromas of dried herbs, earth, spicy cured meat, and black fruit preempt the palate for a chewy and meaty immediacy. Impeccable balance of extract and structure. Much less chocolatey than its stereotype. People give Amarone a bit of flak for being overbearing, but have you ever had an *actual* overbearing Napa Cab? C'mon, y'all. Amarone. 50% Corvina, 20% Corvinone, 20% Rondinella, with Molinara, Oseleta, and Turchetta taking the last 10%. Aged for 24 months in 30% French barriques and 70% Slavonian oak.
Le Ragose 2013 Recioto della Valpolicella Classico (Veneto, Italy) 500mL. Feb 2018. $56 USD.
A deep ruby bordering on garnet. From chocolate-covered black cherries to sweet molten dark chocolate and cherry liqueur. Tannins, a balsamic lift, and a bitter almond ending balances out the saccharinity. 50% Corvina, 30% Rondinella, 5% Molinara, and 15% other local grapes. Aged for 1 year in stainless steel, and also 1-2 years in oak. 80 g/L RS.