"Il Veneto In Un Bicchiere"
A late post from December 30, 2014. I'm the worst.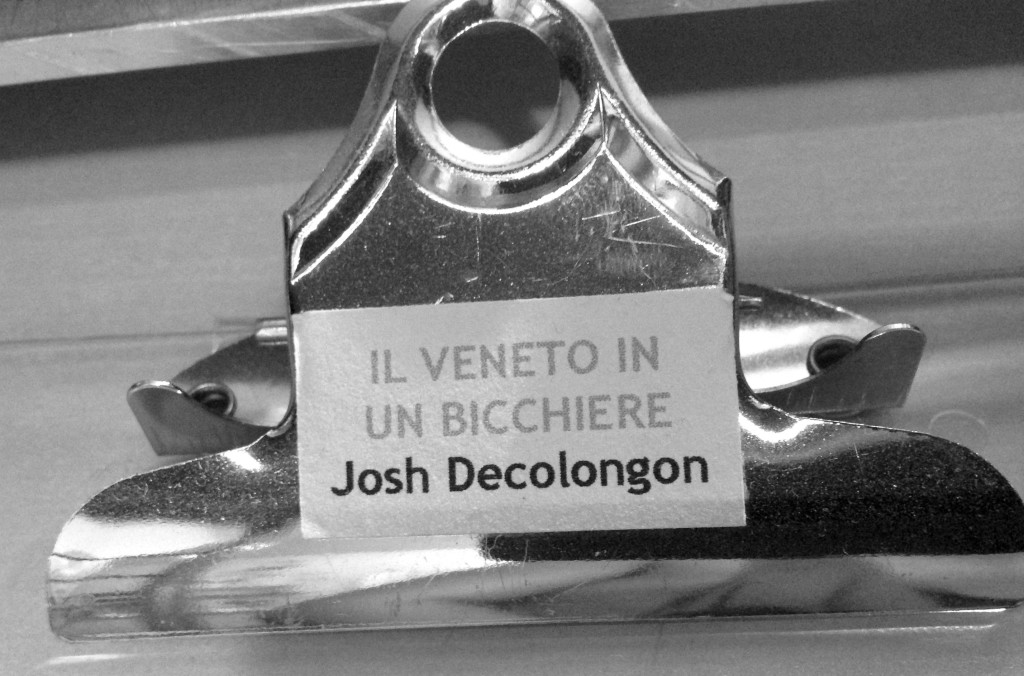 Even in the winter, I shave my head every four days. I'm used to the brisk air and I sort of enjoy it, but there's the unfortunate coincidence when Shave Day collides with a wine event, because that means I have to be judicious with how much I moisturize my head. The first rule of any wine event is to skip the cologne or perfume entirely – and I don't wear cologne anyways – but sometimes I secretly break that rule, all in the name of male pattern baldness. Why are there no slow-motion hair commercials for guys like me with Natasha Bedingfield's Unwritten playing in the background?
Thankfully, the wines of the Veneto are generally lively enough to pair with the subtle flowery scents of my head, and brisk enough to pair with a sunny winter day. I find that her whites are lively and crisp but never generally electrocuting or piercing, and her reds are full of nutty cherry-centric fruit with a range of atmosphere. The Veneto boasts a huge chunk of DOC wines, around three-quarters which are exported. I'm guessing that all faces of Valpolicella and Prosecco are the main propellers for such a statistic, but it's cool to be able to explore the other wines in the region's cross-section.
Thanks to The Wine Umbrella, a group of us had the opportunity to try eight fantastic wines to pair with Via Tevere's cuisine. Huzzah!
We started the day of with three different bottles of Prosecco. The first was the Montelvini Treviso Prosecco: more mineral-driven than the riper Ca' di Rajo 2013 Valdobbiadene Prosecco Superiore Extra Dry, which was more cordial in character with gentle florals and riper pear fruit. The third was the Ca' di Rajo "Cuvée del Fondatore" Prosecco Superiore Millesimato Brut, which I found to be the most complex of the three. A frame of minerality and subdued pear, blessed with a bit more yeasty character. Intriguing, because it seems like the latter two wines only differ in their sugar levels according to the tech sheets, though I found the sweetnesses to vary only slightly and the noses to be drastically different. Science, or whatever.
I'm always excited to retry wines from the past, in case I pick something up that I've missed: it's like watching Inception for the second time. Soave is admittedly not as layered as Inception, but that's not the point of it. Its dominant grape, Garganega, is a super-productive grape that needs the grape grower's reins in order for it to manifest anything interesting. And it becomes intriguing when you taste two very different wines that are ostensibly neutral in style: the Ca' Rugate 2013 "Monte Fiorentine" Soave Classico had distinctly more flavours of overt citrus and grapefruit, much like the Anselmi, which is the exact bottle that caused the great New Year's Hangover of 2014. The Ca' Rugate had more of a creamy nuttiness on the palate rather than the jaunty citrus on the nose: very much like today, with sun on the nose but more autumnal coziness on the palate. The Pieropan 2012 Soave Classico had a a bit more of a nutty and herbal stroke to it, but the same subdued acid and creamy feel. Soave, suave, etc etc.
I didn't realize that we were trying something so recent as the Ca' Rugate 2014 "Rio Albo" Valpolicella. Drinking fantastically for a wine whose grapes were only picked mere months beforehand. Cherries, nuts and hints of flowers give some intensity on the nose, though the palate finds itself more anchored in the old world with more austere red fruit and higher acid than anything we've tried so far. A fresh 4:3:3 ratio of Corvina, Rondinella, and Corvinone, and a fantastic liquid companion to Via Tevere's pizzas.
Raboso isn't a grape I've ever tried and I'm not even sure I've heard of it, though it confusingly sounds like other grapes that I am familiar with (Ribolla Gialla? Robola?), and according to the Jancis, it's an astringent and tannic variety – so much, that two hypotheses for its name include a derivation of the word rabioso, which, in the local dialect, describes unripe fruit; the second hypothesis predicts that the name derives from the Italian word rabbioso, meaning "angry". A tenth of the Ca' di Rajo 2010 "Sangue del Diavolo" Raboso del Piave come from dried grapes of the variety: the resulting wine has a plummy and spicy nose with lots of dried cherry and potpourri, the body echoing the same flavours with a medium body, and as Jancis said, a high acid and relatively marked chalky tannin. It finishes with a pleasant and gentle floral bitterness. Also, the wine is titled "blood of the devil". I mean, come on. How can you not.
The last wine was the Pieropan 2010 "Vigna Garzon" Amarone della Valpolicella: not much to say here, except for the fact that it was delicious, with flavours of milk chocolate, cherry compote, bitter almond, and hints of meatiness. I'm actually having second thoughts on New Year's Eve: all I want to do is drink this and fall asleep in a blanket as the earth rotates into 2015.