16 sparkling wines to drink alone in your room on New Year's Eve
Girl, do not limit yourself. You can pick any day! New Year's Eve, New Year's Day, or fuck: why not March 6th? I support you.
On that note of celebrations, though, I don't understand why it's ridiculously vogue to aggressively bluster about how you're over partying with large crowds and noisy beats. We get it. Can you stop making me feel bad for not fitting into your definition of introvert, for once? I can be the biggest withdrawn human endlessly swaying to Björk and eating baby carrots, but maybe my version of Saturday night Chopin and Netflix occasionally involves enjoying a Hillary Clinton drag impersonator rip off four layered tearaway pantsuits in a row at a bar where I've made just the right amount of mistakes over the past few months. Geez.
Despite my absurd rant, I am serving you drinking-sans-humans-realness, despite the fact that wine is all about community and togetherness, or whatever other lie that moocher perpetuated to get you to share your expensive bottle of Burgundy. Just kidding. But am I wine Scrooge? Will I be visited by the drunken ghost of Christmas future to show me my entire wine cellar has turned to alcoholic dirt water? And if so, can I take a selfie with the grim reaper – whose robe I can assume will be made of Yellowtail labels – for Instagram likes? Thanks. I think that's Millennial Sin #5? Wasn't that a Black Mirror episode?
Our list of sixteen begins with seven of the most idiosyncratic Champagnes I've had in a long while; a few more commonly-seen Champagnes; an assortment of other sparkling wines from three other corners of France; and three very characterfully distinct Italian Moscato. Piquant orgasms include both the Veuve Fourny "Grand Réserve" Champagne and the Jean-Louis Denois "Tradition" Extra Brut Reserve for their good value coupled with expressive character; the J. Lassalle 2005 "Cuvée Spéciale" Champagne for its slow-forming gradient of delicious pecan-vanilla flavour; and the Elviro Tintero 2015 Moscato d'Asti, Sorì Gramella, for its uniqueness: but don't tell any sommeliers of the jerk variety that I commended a Moscato because they'll give a disheartening chuckle and swirl their wine glasses at me. And then make that exact motion their Facebook profile picture.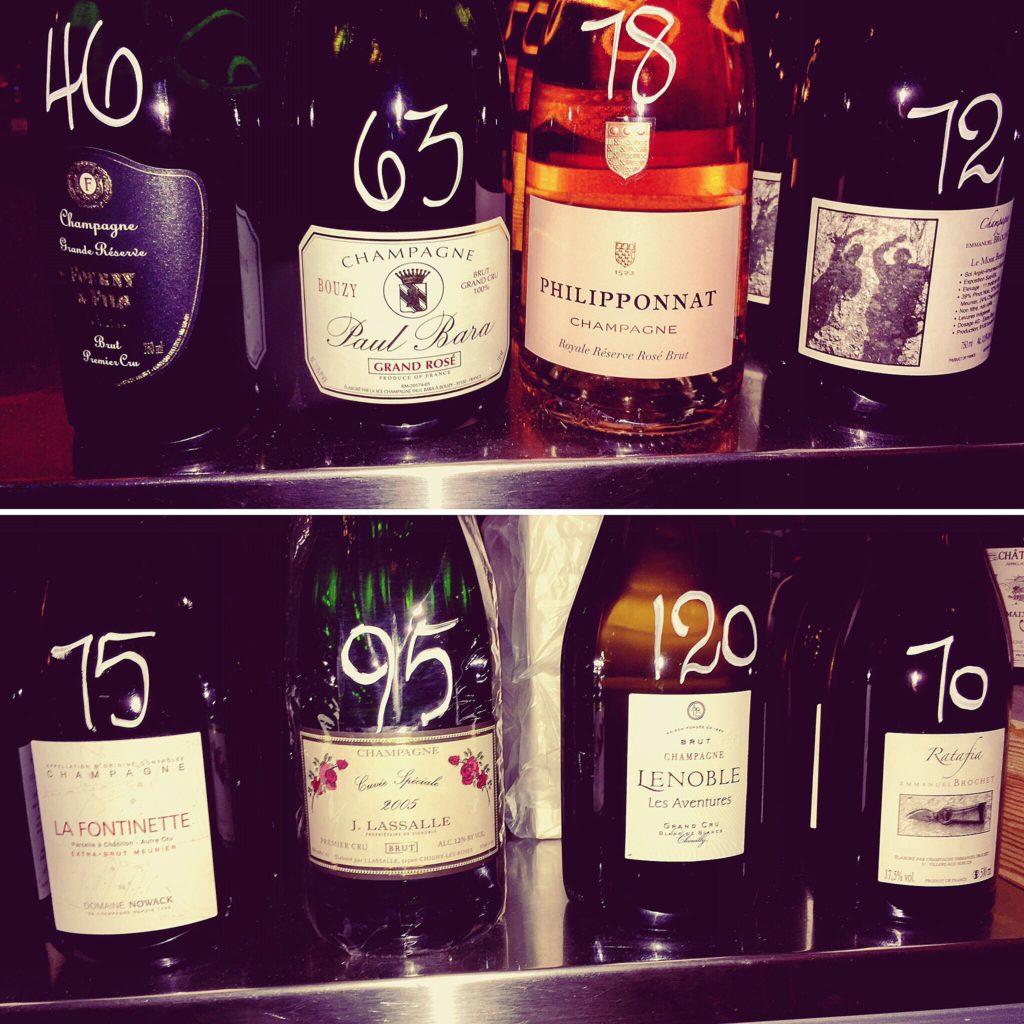 Veuve Fourny "Grande Réserve" Champagne Brut Premier Cru, Vertus (Champagne, France) Dec 2016. $50 USD.
A blend of Chardonnay and Pinot Noir. Really open and voluptuous, with toasty bruised apple, yeast, and applesauce. There's a bit of flirty salted caramel and apple skin on the palate. Soft and silky. Not super long but a supremely good value!
Paul Bara "Grand Rosé" Champagne Brut Grand Cru, Bouzy (Champagne, France) Dec 2016. $68.50 USD.
Beautiful pink hue. Rather silent on an initial sniff, with wandering wisps of raspberry, white pepper, dried strawberries, and herbs. Where the nose gave me impressionistic pastels, the palate gave me more soda-for-royalty with much more life and expression: a strawberry-kissed limeade comes to mind. Savoury throughout, and maybe a hint hot? But very wholesome and complete. Pink identity created by both saignée and the addition of red wine. 68% Pinot Noir, 20% Chardonnay, and 12% red wine.
Philipponnat "Royale Réserve" Champagne Rosé Brut, Mareuil-Sur-Ay (Champagne, France) Dec 2016. $85 USD.
Compared to the nose of the Paul Bara, this has more supercharged everything, with more toast, yeast, brioche, and herbaceous character. It's also nuttier and rounder on the palate – more sweet almond, and something spiced and with just a hint of sweetness, like carrot cake. 75% Pinot Noir, 20% Chardonnay, and 5% Meunier, with partial malolactic fermentation and reserve wines in the blend aged in barrel.
Emmanuel Brochet "Le Mont Benoit" Champagne Extra Brut, Montagne de Reims (Champagne, France) Dec 2016. $78 USD.
What sets this apart from most Champagne I've had is this obvious but well-woven aroma of pear, white flowers, and almost candied green apple. Of course there's still a yeasty likeness and a backbone verging on metallic earth, but all in all this is delightfully jagged and elegantly rebellious on the palate, where a reiteration of green apples, pear, and jasmine poke through the expected guise of yeast and bread. Eclectic and strange for Champagne, yet jovial and really interesting.
Flavien Nowack "La Fontinette" Champagne Extra Brut, Vandières (Champagne, France) Dec 2016. $81.50 USD.
Really closed at first – maybe some spice, flowers, and earth, with just an iota of something like maple? And then – holy shit – I wouldn't have expected a 100% Pinot Meunier Champagne, a grape known for providing swift and forward fruit in the region – to produce a wine so piercing that my mother in Canada might have felt it. Behind the acid there's a mix of lemons, green apple, wine gums, green pineapple, and a Cava-like earthiness. Woah. Needs time in the bottle, I'd say.
J. Lassalle 2005 "Cuvée Spéciale" Champagne Brut Premier Cru, Chigny-les-Roses (Champagne, France) Dec 2016. $103 USD.
Half Chardonnay and half Pinot Noir. Considering the age, I'm surprised this seems maybe a hint reductive and even bordering on being skunked rather than obviously oxidative. A hint of maple syrup on meat shows through, but all in all the rough edges have faded to reveal mostly bruised green apple. Holy FUCK though: on the palate, it's an oral gradient of something undeniably like pecans and caramel on vanilla ice cream. Beautifully hedonistic and rich: almost bordering on buttery (indeed, all of the wines from J. Lassalle have completed malolatic fermentation)? One of the most idiosycratic and elegantly girthed Champagnes I've had in the recent past. Yes gawd.
LeNoble "Les Aventures" Champagne Blanc de Blancs Grand Cru, Chouilly (Champagne, France) Dec 2016. $130.50 USD.
Very yeasty and with sweet herbs – something like a fleeting thought of caramel and sage – maybe a hint of something meaty. Red apple, earth, and the barest hint of pine. Ultra strange and intriguing on the palate. The sage evolves into oxidative yellow apple and hints to something like – in the most pleasant and delicious way possible – boiled greens. Almost evokes something like a pool – like a saline or Chlorine-like character. Lots of creamy stuffing.
Veuve Cliquot Champagne Brut (Champagne, France) 375 mL. Apr 2016. $44 CAD.
I've actually not had Veuve Clicquot before! Birthday bottle. Pinot Noir dominated. A nice round burst of red apple, stones, yeast, a a hint of bread upfront, and then a finely delicate bubbled texture giving way to zippy green apple on a hint of a leesy blanket. A little sweeter than I expected. Finishes long and yeasty. Complex but not cerebral.
Moët & Chandon "Impérial" Champagne Brut (Champagne, France) 375 mL. May 2016. $33 USD.
A hint of earth on the nose, with hints of baked apple and yeast. Fine mousse and body with high acid. Sprightly, yeasty, and balanced, but a little too refined and proper for me. A bit of original glaze donut going on! Powdered sugar and hints of honey. Savoury. Clean.
Moët et Chandon 2006 "Cuvée Dom Pérignon" (Champagne, France) June 2016. $158 USD.
Beautiful ribbons of yeast, white bread, minerals, green apple, cream, the barest hint of smoke, white peach, and some citrus. Creamy and tongue-enveloping in stoniness, not before a creamy entry of baked apple and almonds. Zippy acid and quite graceful. Honey. Hint of some flaky pastry but still not very revealing on the nose at this point.
Pinon Vouvray Brut (Vouvray, Loire, France) Apr 2016. $27 CAD.
Super Chenin-esque! Not as oxidative or nutty as something like Moncontour's Cuvée Prédilection, but there are some white peaches and a mineral tautness on the nose. Dry, steely, energetically fine, and mineral-driven with a nice central core of tangerine and white peach, before veering off to a mild, round finish.
Jean Bourdy Crémant (Jura, France) Apr 2016.
Sliced green apple, crushed rock, and a dusty minerality. A hint of some flaky pastry too, but this Jura sparkling is definitely much more pleasantly precise and orderly compared to other sparklings I've had from the region.
Jean-Louis Denois "Tradition" Extra Brut Reserve (Languedoc, France) $16 USD.
Awkward (but tasty) opposing apple notes: like fresh ones mixed with bruised ones, and nothing in-between – then some smoky butterscotch and some kind of nutty almond-honey dessert. The palate is nice and powerful with a spiky accent on the stony caramel tones, along with citrus pith and yeasty afterthoughts. Really good value. Apparently half Pinot and half Chard.
Bava 2014 Moscato d'Asti (Piedmont, Italy) May 2016. $14 USD.
4.5% ABV. On the nose, the flavours don't leap out, but there's an accent of citrus, tangerine, apple, and peach candy. Quite sweet, but then a big cleanse of lemony acidity takes over, along with gentle bubbles. This stands out as a brighter version for the style – which now makes sense, because apparently these vineyards are located on higher altitudes. A combination of apple juice and sour candies on the palate.
La Caudrina "La Selvatica" Asti (Piedmont, Italy) May 2016. $22 USD.
Very pretty and floral. Orange blossom, green apple, and hints of sappy peach and dried herbs. Creamy mouth-filling bubbles on the palate with crisp acid and medium-dry crunchy apple flavours. Hint of a pithy ending.
Elviro Tintero 2015 Moscato d'Asti, Sorì Gramella (Piedmont, Italy) June 2016.
Very floral: but not the typical orange blossom. Something purple and pale: maybe lilacs or violets or jasmine? I've never seen Moscato d'Asti expressed like this before. Gentle fizz and violet-centred still on the palate, but it's joined by sweet lime. Not as sweet as a lot of the Moscato d'Asti I've tried, but it's certainly as bright and cleansing. Also a hint of banana bread.