"Looking to bone in Beaune"
…was the working draft for a Tinder profile in Burgundy.
"Que cherches-tu?"
I hopped off my bike near one of the villages – Pommard, I think – and ran down the road before jumping up onto a short brick wall surrounding some vineyard so that I could see better. I told the vigneron that I lost my friend and he said that the diverging roads would both eventually lead to Pommard. Though actually, I'm totally filling in the blanks with bullshit and I mostly don't know what he said (except for "tu comprends?" to which I responded with "oui"), but his hand signals sure helped.
Theran and I decided to bike to the other edge of the town and wait, despite the itch to haphazardly bike down the next hill so speedily that my mom would have the sudden urge to slap me all the way from Canada. Though she probably thought I was crazy, a woman with three dogs walked by and I asked her if she saw a girl with purple hair. She said no, but we thankfully found Erin soon after, and it was back to feeling the wind in my hair – err, wind in my scalp.
Anyway, we reached as far as Meursault before needing to bike back up to Beaune to catch our train – this was the extent to our vineyard visits in this section of France. We did go to A.-F. Gros, though, whose wines were orgasmic and concentrated, and also the elegant Domaine Debray and the slightly clinical Joseph Drouhin. Our Airbnb dwelling, coincidentally owned by the winemaker of Boisset, had a confusing door that sometimes took 10 minutes to lock, so we missed an appointment. Alas. This was worth missing to check out Bar du Square 2 nights in a row, which was the quintessential popular bar of the walled city.
During the first night, after Theran disappeared for a bit to deal with errands, a couple invited us over to join them, and then they clearly got into a spat when they discovered Erin and I were not a couple, though we had already accepted a couple of mouthfuls of these delicious shrimp things they so amiably offered us. Afterwards though, we met cool people (WHAT UP MARINA AND TONY), who were mostly the friends of the odd couple, the wife now refusing to basically participate in any of our jovialities. There was a Real Housewives of Beaune moment when she knocked over a glass and I pretended not to notice.
What follows is a blur of Crémant (de Bourgogne, obvi), Volnay, other liquids, and Cru Beaujolais: an extra bottle of Régnié from Marina because she is a goddess. Anyways, towards the end of the night, where I think there was Chablis and Chartreuse and people feeling that they no longer needed to sit, a French guy on rollerblades nibbled on my ear to prove a point. I don't remember what said point was. And then we hobbled home. As in Erin, Theran, and I, sans rollerblades.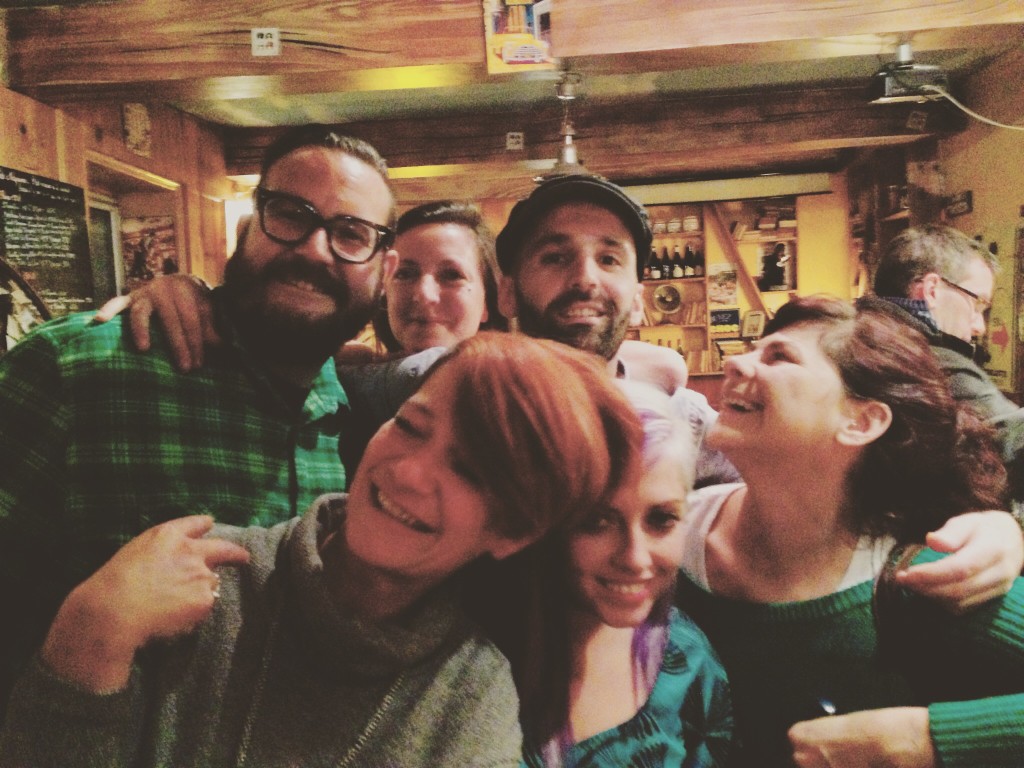 The second night we were there, we coincidentally made friends with a dude whose father was some sort of big wig in the Bordeaux wine industry (blah blah blah name drop Rothschild yeah we get it). There was also some sort of rugby game on the TV and thus there were rambunctious men from England who we befriended (James?), and then they took my phone and typed in things to do in London in case I ever ended up there. No, they did not type their addresses.
We also met a random Canadian. Who lives in Penticton, BC, Canada. Whose boyfriend is the winemaker for Lake Breeze. CAN WE NOT ESCAPE FROM CANADIAN WINES EVEN IN FRANCE? GOD. And Erin (accidentally?) met two of her Tinder matches at the same bar. YES.
We went to one of two existing nightclubs in Beaune. I'm surprised there were more than zero, to be honest. All I remember is James buying us drinks and then the weird but satisfying cover band.
Other notable things: eating escargot, talking to Texans about Project Runway, and night walks.
Beaune was the pinnacle of excitement for Erin and Theran, but mine was still Angers (spoiler alert: until Barcelona). Three cities down: now for Reims and then Barcelona.
Jean-Claude Boisset 2013 Chambolle-Musigny (Chambolle-Musigny, Côte de Nuits, Burgundy, France)
Ripe strawberry, black cherry, hints of balsamic, some meatiness, earth, and bits of oak. Much more elegant on the palate compared to the fragrant nose; it's a little more clenched and austere on the palate with fine but slightly raspy tannin. Juicy acid; needs time. 35% new French oak.
Domaine Debray 2013 "Les Pucelles" St-Aubin (St-Aubin, Côte de Beaune, Burgundy, France)
Just mere hints of butter and throwbacks to yellow apple from the Chenins of the Loire a couple of days ago. Wonderful tension between mouthwatering acid and concentration. Fair attack with a pale finish but a nice pow for breakfast.
Domaine Debray 2013 Santenay (Santenay, Côte de Beaune, Burgundy, France)
Less intense and more mineral-focussed; more autumnal spice and less buttery hedonism. Tighter and with a hint of smoke and orange peel with a savoury finish. A broad hint of something caramelized or brulée'd at the end.
Domaine Debray 2012 Meursault (Meursault, Côte de Beaune, Burgundy, France)
Something minerally and with a hint of sea spray? A swimming pool? Spiced red apple, maybe a hint of oxidized red apple on the palate with fair plushness and a longer finish. Transparent , clean, and with a concentrated minerality, like glass. Savoury and ends spicy.
Domaine Debray 2013 Monthélie (Monthélie, Côte de Beaune, Burgundy, France)
Bright raspberries and definitely pomegranate on the nose. Bright and September-tinted, like an sunny autumn day. Lively on the palate with acid that emphasizes the flavours and freshness, though there's a slight fall in concentration. Fine structure involving dusty tannin that allows the wine to shine.
Domaine Debray 2011 "Les Chapponières" Pommard 1er Cru (Pommard, Côte de Beaune, Burgundy, France)
The nose has lots of ripe strawberries, here, that shares the stage with ripe black cherry and earth. Austere strawberries on the palate, with raspberries, texture, and fine tannin.
Domaine Debray 2013 Vosne-Romanée (Vosne-Romanée, Côte de Nuits, Burgundy, France)
Concentrated; most intense compared to the Monthélie and Pommard. Lovely ripe viridescence – parsley? And then some spicy black pepper amongst the playful raspberry and pomegranate-centred red fruit. Most pure on the palate compared to the other two as well: juicy and refreshing, with fine structure framing dried strawberry fruit.
Domaine Debray 2012 Clos Vougeot (Vougeot, Côte de Nuits, Burgundy, France)
Purity of black cherries and pine, though the wine isn't as eager as the Vosne-Romanée. A soft echo of flavours on the palate but with a little more muscle than the nose, with structure to match. Slightly cheesy, but definitely light and foresty.
Domaine Debray 2014 Aloxe-Corton Barrel Sample (Aloxe-Corton, Côte de Beaune, Burgundy, France)
Lots of earth and forest floor on the nose; chocolate and dried cherries on the palate. Chalky and finessed.
Domaine Debray 2014 Gevrey-Chambertin Barrel Sample (Gevrey-Chambertin, Côte de Nuits, Burgundy, France)
Darker, more brooding red fruit on the nose with a tinge of black fruit, like black cherry and game. Bright, chalky, and concentrated on the palate, with acid that sticks out in the slightest, the acid overshadowing some of the fruit.
Domaine Debray 2014 Vougeot Barrel Sample (Vougeot, Côte de Nuits, Burgundy, France)
Black cherry and forest floor. A lot more intense on the palate, but also romantic: gentle violets and bits of dark chocolate amongst a fair bit of structure for Burgundy.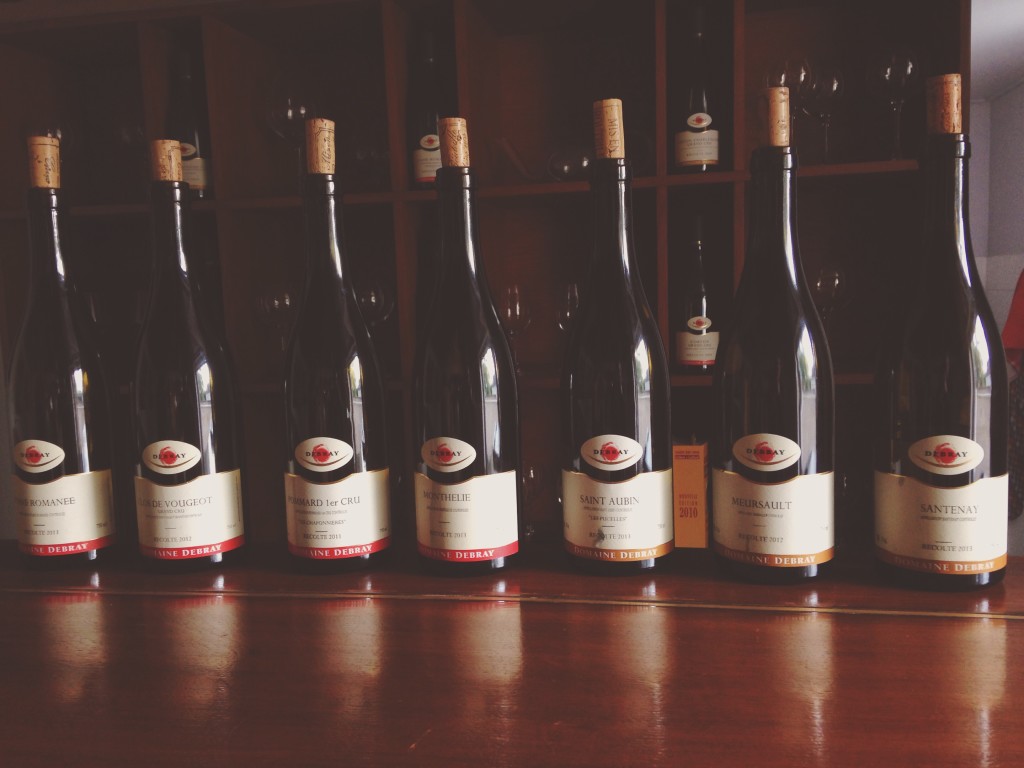 A.-F. Gros 2014 Vosne-Romanée Barrel Sample (Vosne-Romanée, Côte de Nuits, Burgundy, France)
A pleasant inkling of ashy meatiness. Unsullied red fruit on the nose, expressed as dried cherries on the palate. Finely-textured tannins and harmonious acid. Concentrated, creamy, juicy, and other adjectives you shouldn't put on your Tinder profile. I don't remember which specific vineyard this came from.
A.-F. Gros 2014 Chambolle-Musigny Barrel Sample (Chambolle-Musigny, Côte de Nuits, Burgundy, France)
Pretty. Much more perfumed and blithe, with ethereal expressions of earth and strawberries. Intense and mouthwatering on the palate, with delicate tannin. Long.
A.-F. Gros 2014 Pommard 1er Cru Barrel Sample (Pommard, Côte de Beaune, Burgundy, France)
More spice than the other two. Leaves and black pepper amongst the strawberry and darker black cherry fruit. Full-flavoured and thunderous for red Burg, with slightly chalky tannins and a round leafy finish. Like the V-R, I don't remember which specific vineyard this came from.
A.-F. Gros 2014 Richebourg Barrel Sample (Richebourg, Côte de Nuits, Burgundy, France)
Spicy and ethereal with autumnal spice, vanilla, and minerality. A hint of game. Lots of flavour: vibrant spicy red fruit, black pepper, and finely-etched elegant tannin. Lots and lots and lots of complex layers and length. Sweet Jesus.
Les Hérites du Comte Lafon 2011 Mâcon-Milly-Lamartine (Mâconnais, Burgundy, France)
A bit of buttery apple. Simple but with nice structure (I wrote "herringbone structure" as a visual reminder, I think?) and savoury yums.
Drouhin-Vaudon 2013 "Mont de Milieu" Chablis 1er Cru (Chablis, Burgundy, France)
Lots of juicy green apple on the nose, cream, mineral, and faint hints of ginger. Creamy and textured. Apparently, acid isn't as high because Mont de Milieu is a vineyard that has more exposure to sun and warmth, thus it's quite round and buttery for Chablis: there's a slight lack of expected tension but still satisfying. A bit short, and it's reminding me of some BC wines with that vague smattering of green fruit.
Drouhin 2011 Meursault (Meursault, Côte de Beaune, France)
Mineral, red apple, butter, and well-woven bits of oak with some suggestions to flowers. Lots more vanilla and expressiveness on the palate. Creamy, but maybe slightly unexciting. Savoury but it dies slightly on the finish. Round acid. Slightly watery.
Drouhin 2011 "Clos de la Garenne" Puligny-Montrachet 1er Cru (Puligny-Montrachet, Côte de Beaune, Burgundy, France)
More overt oak, stones, and earth. Also much more extroverted. Vanilla and oak; buttery but elegant, with juicy cleansing acid. Well-made and much more tautly balanced than the Chablis or Meursault. Long and elegant.
Drouhin 2012 Chorey-Les-Beaune (Chorey-Les-Beaune, Côte de Beaune, Burgundy, France)
Bright and clean red fruit: pomegranates and raspberries. Playful and light with fine structure at the end. Clean but slightly too clinical for me.
Drouhin 2008 "Damodes" Nuits-Saint-Georges 1er Cru (Nuits-Saint-Georges, Côte de Nuits, Burgundy, France)
Hints of undergrowth and faint stewed red fruit, blackberries, leather, and wisps of menthol. Notably spicy on the palate with lots of brightness and small bits of chalky tannin. Open-knit and savoury but cut short.
Drouhin 1996 "Clos des Mouches" Beaune 1er Cru (Beaune, Côte de Beaune, Burgundy, France)
Garnet-tinged. Decaying leaves, leather, stewed red fruit, soy, spiced meat, and a hint of swimming pool. On the palate it's quite spicy, with fine tannin, and there's a nice savoury meatiness. Chalky with medium texture, but a bit short and pale. Fading?
Christian Confuron & Fils 2007 "Les Feusselottes" Chambolle-Musigny 1er Cru (Chambolle-Musigny, Côte de Nuits, Burgundy, France)
Notably mushrooms and undergrowth amongst ripe strawberries, black cherry, and white pepper. Much less life on the palate with slightly flaccid fruit and dusty tannin turning towards a focus on acid. There is, at least, a slightly interesting mushroomy finish.