Chenin Flair in Savennières
I'm scared and embarrassed to accept what Erin and Theran say is true, which is that I inadvertently speak with a bit of a French accent when I talk in English with other French people. Gross. If I were a travel bingo card, would that be one of the squares?
Right as we arrived in Angers, our Airbnb host Julien (who created this, by the way) drove us to our designated living quarters, in the centre of the city, where seemingly ancient buildings, castles, and churches were spiffily fused with fresh energy and bright streets you could get lost in. Not unlike the vitality of a non-vintage Champagne that has a dollop of older reserve wine added to its house blend, you know? Whatever.
We learned that Julien once made a documentary on karaoke, and that he wants to make one on natural wine. So far, it looks like my last-minute internet grasp on places to sleep seems to be working! And there is no "except when we got to ____". This is my new LinkedIn skill, you guys.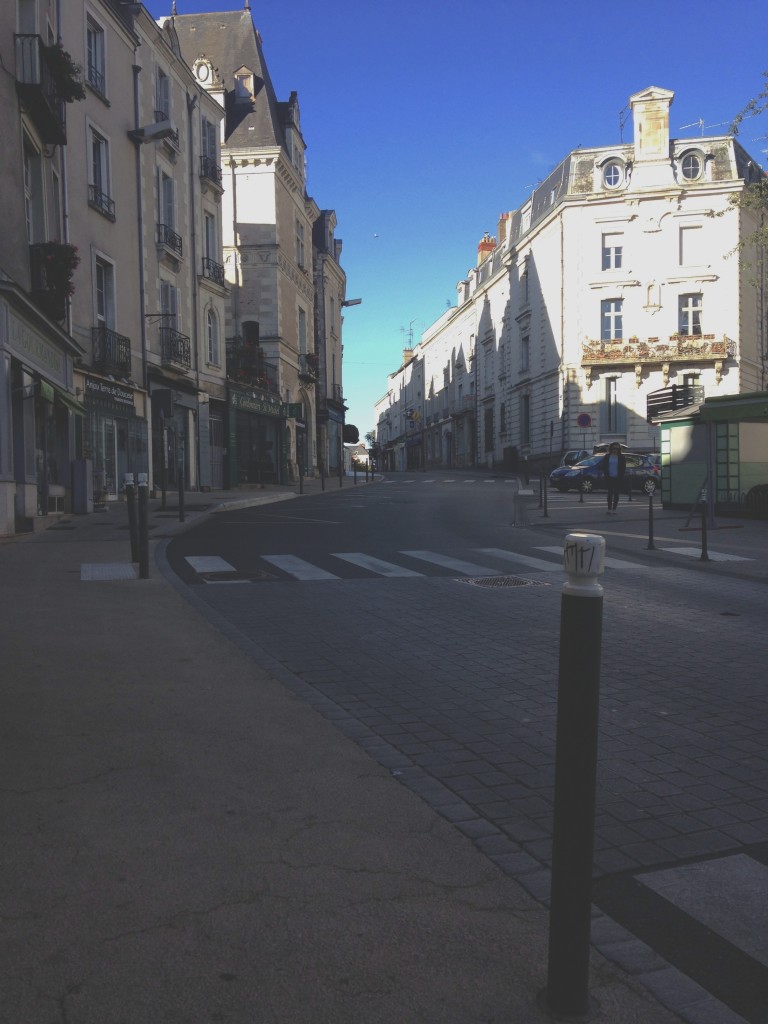 After a trip to what seemed like the only supermarket open in town on a Sunday, we decided to relax for a bit before going out to some bar we stumbled upon later that night. Staying at the oldest historic hotel in Angers? Yes. So much yes. Randomly making a friend from the Midwest? Also yes. And then lots of sun, which, as you guessed it: yes.
The next morning, we went to Savennières, which was our first official wine region of the trip. Domaine du Closel was our first stop, where we rung a pretty legit bell to summon a dude who gave us a map and advised us to explore their property before coming back to taste their wines. And so we did. Vineyard selfies commence, obviously. I think we were mainly looking at the Le Clos du Papillon vineyards or maybe it was La Jalousie?
Domaine du Closel 2013 "La Jalousie" Savennières (Savennières, Loire Valley, France)
Schist soils. Opulent and pillowy yellow apple. Small kick of rounded acid; stony but surprisingly open-knit and fruity, especially on the nose.
Domaine du Closel 2013 "Les Caillardières" Savennières (Savennières, Loire Valley, France)
Sandier soils, I believe, with grapes harvested 10 days after the grapes from the "La Jalousie" vineyard, along with 12-16 months in barrel as opposed to stainless steel. Stinkier and with more baked apple. A little more haunting and more complex, with citrus backed up by a marshmallow-like concentration finishing smoky.
Domaine du Closel 2013 "Clos du Papillon" Savennières (Savennières, Loire Valley, France)
Most mushroomy of them all. Definitely more spicy, exuberant, and shockingly expressive for young Savennières. Creamy and forward.
Domaine du Closel 2006 "Clos du Papillon" Savennières (Savennières, Loire Valley, France)
Golden. The white flowers are dried and drizzled with honey and citrus zest, opening up to baked apple. But it's all subtle on the nose, with an intense wooly mineral bomb of citrus pith, petrichor, and chamomile on the palate. A bit hot. Very extroverted but maybe missing a hint of grace. Certainly less of an oxidative style than the wines of Nicolas Joly. Maybe slightly difficult to discern the fruit, here.
Domaine du Closel 2014 "Rayon de Soleil" Rosé (Rosé de Loire AOP, Loire Valley, France)
80% Cabernet Franc and 20% Cabernet Sauvignon. Lots of slightly skunky herbaceousness here, with a hint of tomato balanced out by the red fruit. Very obviously Cab Franc, and lots of intensity to play with.
Domaine du Closel 2012 "Une Emotion" Cabernet Franc (Anjou, Loire Valley, France)
Pure black raspberries; almost Chambord-like. Light and simple but very precise, though there's not much of a finish here.
Domaine du Closel 2011 Anjou-Villages (Anjou-Villages AOP, Loire Valley, France)
Slightly darker and more serious. Chalky tannins wrapping around bright-ish fruit. Yum.
Domaine du Closel 2013 "Eau de Pluie" (Vin de France, France)
Verdelho. What the fuck. Moderate intensity but notable floral notes. Ripe peaches, nuts, orange blossom, spice, mineral, and baked pear, notably. Pillowy and a little more than off-dry, with an intense palate of canned peaches and nuts. Hedonistic. Simple but very enigmatic.
Then we headed to Château de la Roche aux Moines, i.e. NICHOLAS JOLY'S HIZZHOUSE.
Before we had even left Canada, I already decided I would fill my tiny take-home-quota with Savennières. Thus there was obviously some happy tasting and spending in a nippy room scattered with multiple books on biodynamic agriculture and viticulture. There were some cool books and I was instantaneously miffed that I didn't follow the recurring advice to not pack too many clothes so that I could bring things back home. So I refrained from buying anything made of paper, though perhaps the hostess read my energy (must be the BIODYNAMICS haha jk), because we were given a book. Ace.
The name of our hostess escapes me, but her bright red hair matched her verve, and she urged us to check out the three vineyards: Le Clos de la Coulée de Serrant, La Roche aux Moines, and then some regular Savennières vineyards.
After studying a weird moving black shape in the distance – which we decided was a big fake bird to scare off possible predators – we ended up bumping into Nicolas Joly in one of the vineyards: we told him we were from Vancouver, and he said something about trading us wine for salmon. Oh, Nick. If only it were that simple.
Nicolas Joly 2013 "Les Vieux Clos" Savennières (Savennières, Loire Valley, France)
Scents of baked pomaceous fruit and apple pie; no shortage of autumnal savoury flavours and decaying leaves on the palate. Steely and powerful with a long and warming finish. So concentrated.
Nicolas Joly 2013 "Clos de la Bergerie" Savennières (Savennières, Loire Valley, France)
Topaz-coloured. Even more apple juice purity and honied oxidized pomaceous fruit. More intoxicating and with an impression of juicy sweetness. Weighty and glossy frame. Leaves the palate with nuts and soil. So many components, here.
Nicolas Joly 2013 "Clos de la Coulée de Serrant" Savennières (Savennières, Loire Valley, France)
The most seemingly tightly-knit of them all – yet also the most willing and lively, somehow. Waxy with ripe sugar-dusted red apples and chamomile: the most floral of the three. The nutty and baked apple character almost twinkles on the palate like a constellation, set to a background of earthy chalk.
Also on the list was biking – and by biking, I mean riding two-wheeled death machines for the first time in something like 15 years. The refreshing crash course (not literally, thankfully) involved biking down to a busy intersection and then onto a bridge, and then along uncomplicated paths, whizzing by a combination of trees, water, and what seemed to be youth summer camps. We eventually reached a sign that told us to wait for a person on a boat to take us across the river, but instead we took a fake path through foliage which eventually resulted in us carrying our bikes up a steep slope and riding through what seemed like an endless pattern of gravel, construction, and an odd highway here or there.
Almost without needing words of agreement, we stopped at a McDonalds, because we remember to buy bottles and bottles of alcohol at the wine store but completely blow it when it comes to food and water.
Also cool? Château d'Angers, which features the creepily amazing Apocalypse Tapestry.
Domaine Huet 2008 "Le Haut-Lieu" Vouvray Moelleux (Vouvray, Touraine, Loire Valley, France)
Scents are chock-full of honey, apricots, and caramelized yellow apple. A luscious pure sweetness on the palate, with botrytis following puffed wheat. It's a super-unctuous nectar almost giving an impression of buttered baked peach pie, with a midpalate of dried apricots and ripe mandarin oranges. The mouth-filling fruit seamlessly grades into a shadowy pithy minerality to balance out the saccharinity. Nice acid. Holy fucking fuck.
Frédéric Mabileau 2010 "Chenin du Puy" Saumur Blanc (Saumur, Loire Valley, France)
Golden. Spicy butterscotch-covered apples and bits of white flowers. Dry, spicy, and with a sweet impression. Drinking at its peak, with plenty of butterscotch and fading fruit. A bit short but has a nice upfront burst.
The city itself was fantastic but I was admittedly too drunk to remember most of its intricacies. There was the fantastic Le Cercle Rouge, though, and then some places that Julien took us to, because he ended up hanging out with us for a superb chunk of our time in the city. Winning at my first ever Airbnb experience, you guys. Also included: a really funny story that you should ask me about. Maybe two.
Pfifferling ("L'Anglore"?) 2014 Tavel (Tavel, Rhône Valley, France)
Intoxicating gummy raspberry and lilac-scented. I've never had a Tavel that was so pleasantly forward in its fruit.
Domaine Briseau "You are so Happy" Pétillant Naturel (Vin de France?, France)
100% Chenin Blanc, I'm pretty sure. Biodynamic, if I remember correctly. Bordering on gold, with yeasty tea, bruised apples, and orange oil. Delicate mousse on the palate with more baked apple, and a pillow of minerality to cleanse the pomaceous fruit. The fruit is a bit short and quickly shifts to stones, nuts, and citrus zest.
O. Lemasson "Fermentation In Vitro" (Vin de France, France)
Timid pomacrous fruit, white peach, and apricot, with direct and stony pétillant mousse. A little obnoxious. Citrus-driven on the palate.
It was a bittersweet departure because I already knew that I would be adamant that Angers was my favourite city of the trip even though we still had Beaune, Reims, and Barcelona to get to. Next: Pinot Noir and Chardonnay town!