Vancouver International Wine Festival 2015: "All About Syrah"
Legit tried to give my ticket away or sell it just hours before like a chump, because the previous day's Australian Shiraz tasting made me seriously question what possessed me to buy a ticket to an event where I was subject to taste eleven more Syrah wines. No ma'am. I couldn't even give my ticket away to someone for free, as he reluctantly looked at me as if I'd just knocked on his door and asked if his life had been saved by Syrah yet.
I thought it was a bad sign when some sort of false fire alarm went off right when the beginning of the event rolled around. As soon as I was going to test if the rhythm would match up with an Iggy Azalea song, the blaring Windows 98-like noises stopped. Time to find eleven different ways to phrase "black fruit and peppery tones"!
By the end of it I was glad I didn't not go, because seeing how the grapes extend certain parts of their personalities in each region while holding onto their core is such a cool and rare thing to be able to do, and plus this definitely counts as studying.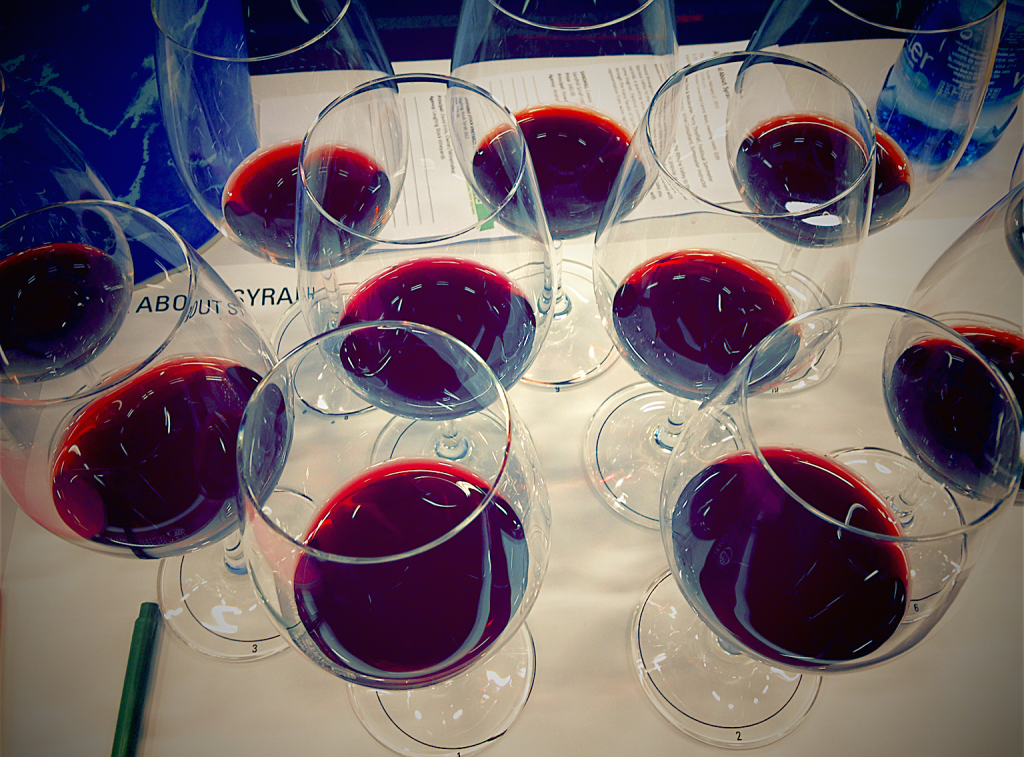 Two representations from BC which I thought was very appropriate: the Sandhill 2012 Small Lots Syrah had a punchy blackberry character with hints of spiced meat, while the palate was energetic and light on its feet. The Laughing Stock 2012 Syrah in contrast was quite obviously co-fermented with Viognier (noticeable even with a small amount at 4%!), with black fruit supported with black pepper and a note of orange peel and something floral. A little more plush on the midpalate compared to the Sandhill.
At this point, the photographer is vaguely pointing his camera in my direction a couple feet away, and I'm casually posing with my brooding Syrah face. I can't wait for the first issue of The Worst Dressed of the Vancouver International Wine Fest 2015.
The Charles Smith 2011 "The Deal" Syrah doesn't seem as ballsy as Charles Smith himself, but there's a real balanced finesse to it, which is apparently characteristic of the Syrahs from Wahluke Slope (say, compared to Walla Walla). Not intensely aromatic with mineral and berry-forward aromas, and a concentrated mid-palate with tart black fruit providing a fair amount of structure.
Of course Beyoncé starts playing in my head as soon as I see the Sacred Hill 2013 "Halo" Syrah, but the wine itself is more like – I don't know, Independent Women Part 1 – because it's spicy as shit. That gamy black pepper note is more pronounced here than it is in everything else in the flight, and it has the powdery tannin and mouthwatering acidity to match. Crunchy.
Though the cheapest in the flight, I gotta say that I was really impressed with the Viña Falernia 2012 Single Vineyard Syrah. Yes yes red and black fruit and pepper, but definitely some cured meat with bits of smoke. Heavier body with some baked dark fruit and tense but not tight structure, finishing off savoury. If there was any wine in this flight that needed a generic "Pair this with summer BBQs!" suggestion on the back label, it would be this one.
In comparison, the Viña Montes 2011 "Folly", also from Chile, was much more brooding and moody, with subdued aromatics only leading to some oaky spice and concentrated blackberry jam. Almost a blue raspberry thing, but it's all blanketed by seemingly subtle oak, despite the fact that the wine has seen 18 months in 100% new French oak – this probably says something about the wine's audacious concentration. Fuller on the spectrum with bright acid and tannins for days. A bit young or needs food, but the quality is there.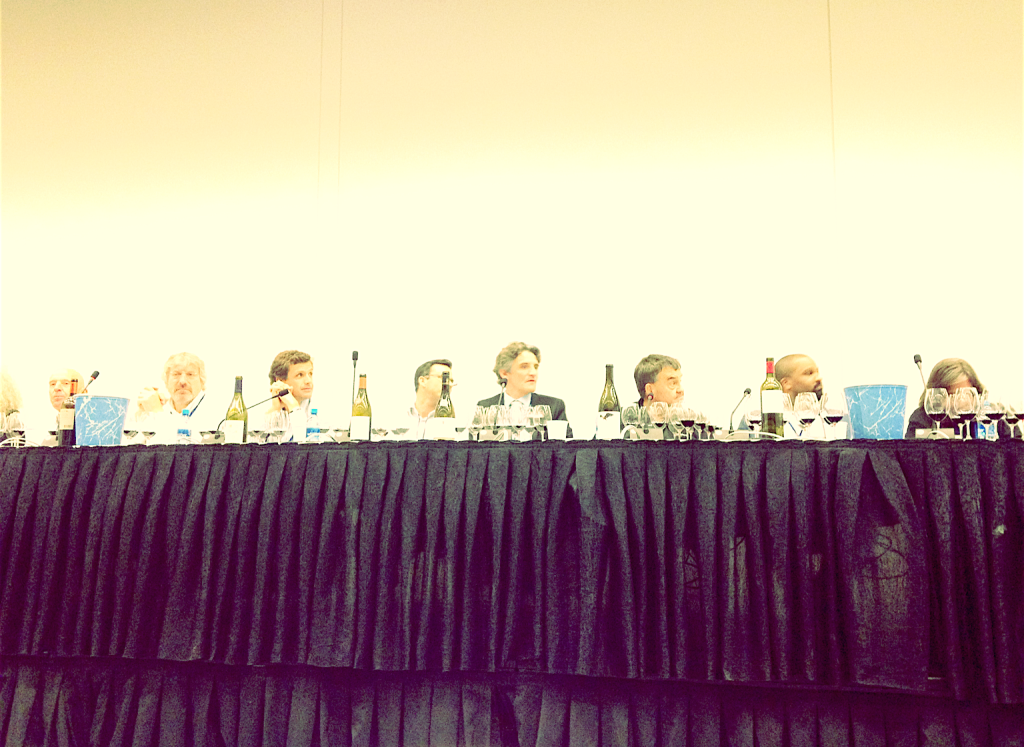 For some reason I expected something a little more fucked up from the Spice Route 2009 "Terra de Bron" Syrah, because I feel like if anything in this fight would be ashy, weird, and divisive, it would be this one. It's more restrained on the nose with some black fruit and hints of asian spice, and there's a distinct yet minute hint of some spaghetti and meatballs. Still into it, though.
Same with the Cave de Tain 2011 Hermitage Rouge. Not super blown away to be completely honest, but it looks like there was a bit of a trough in quality for 2011 in the northern Rhone compared to the immediate vintages surrounding it. Black pepper and game though, with hints of smoked meat and a full but springy body. Intense but well-unified structure that dries even the back of the mouth. I just feel like there's a bit of concentration that's missing. I mean, it's totally delicious and whatever, but it's perhaps slightly devoid of some presence.
The Dalwhinnie 2004 "Eagle" Shiraz was significantly more orange-toned than everything else, obviously indicating age – and there were lots of developed aromas on the nose, including soy sauce, meat, cola, and an obvious oxidized nuttiness among the bits of of day-old crushed dark berries. Evolved character framed by fresh structure, but the flavours themselves are missing some spark. I'm definitely in the unpopular camp because there was audible fascination from the crowd, but the wine just teeters on partial flaccidity.
Copy and paste the ripe black fruit in the Penfolds 2009 "St. Henri" Shiraz, but there's a lot more of a dried fruit and spice sort of character amongst the purity of fruit. No new oak. A bit firm and flexed, but concentrated. No shortage of acid or tannin to fortify the fruit. Almost iconic and undeniably outstanding quality, but there's something I'm personally not really into but I can't put my finger on it.
I got to try the Yalumba 2008 "The Octavius" Shiraz in a previous seminar so this is a test of my own consistency if anything. Moderate black fruits on the nose with some smoke and meatiness, but it's not a pungent cured meat like in that Chilean one – it's more of a subtle grill mark. Full with some sweet berries and savoury berry skin, and there's a nice touch of lift to balance out the viscosity. Like a heavy airplane gliding at low altitudes.
Glad I didn't skip out on this. But I'm fried and I immediately trot over to a restaurant nearby where my wine girlfriend is having dinner, and I promptly order the most boring and refreshing lager on the beer menu. Syrahs and hurrahs.
Moderators:
Terry Threllfall – Festival Sommelier
DJ Kearney – Wine Consultant, Sommelier Instructor
Panel:
Howard Soon – Master Winemaker, Sandhill
David Enns – Owner/Winemaker, Laughing Stock Vineyards
Charles Smith – Winemaker, Charles Smith Wines
Glenn Cunningham – Global Sales and Marketing Director, Sacred Hill Vineyards
Giorgio Flessati – Owner/Winemaker, Viña Falernia
Aurelio Montes Jr. – Director of Winemaking, Viña Montes
Jean-Baptiste Cristini – Exports Manager, Fairview Wines
David Quillin – Export Manager, Cave de Tain
Greg Corra – Managing Director, Inland Trading Co.
DLynn Proctor – Winemaking Ambassador, Penfolds
Jane Ferrari – Ambassador/Winemaker, Yalumba