Vancouver International Wine Festival 2015: "Decades Apart"
I'm feeling inconveniently gross because I was supposed to study the rest of Australia last night, so it seemed like a good idea when my best friend posed the idea of doing some late night work together at a café. We drove around, and the few places we could think of were all full at 9PM on a Tuesday, so we thought we could grab a small bite at the Union before heading back out to scout a place to get some shit done.
It was not a small bite. We did not do work afterwards.
Long story short: it's the day after. I'm tired and gross and for some reason I decided to wear this really thick button-up because I've been saving it for semi-relevant moments like these, and I'm thanking God that there isn't a saccharine Chardonnay in the flight that raises my body temperature by a few degrees.
This was one of the seminars where spots filled up rather quickly, and for good reason: we were slated to taste 6 pairs of wine, each pair having an aged counterpart with which we could compare. Hence the seminar's title. Uh, fuck yes.
First on the list was the McGuigan "Shortlist" Eden Valley Riesling. The 2014 wasn't as idiosyncratically kerosene-ish as I expected and there was a lot of averagely aromatic lime candy and green Jolly Ranchers. The acid is up there but it's not making me claw at my face at 10AM so that's a good sign; the 2004 has much more stony kerosene with baked lemon, limeade, and a legit hint of toasted sliced bread despite being devoid of any oak. Rounder acid than the 2014, but still some gusto on the mid-palate.
Tahbilk Marsanne never fails to fuck me up in a blind tasting. I'm really surprised at how the 2013 is drinking right now, only because I think the current release in our market is something weirdly slightly aged like the 2010, but the typical honeyed lime I get is replaced by this stinky honeyed earthiness, some mushroom, and green apple – almost like a tiny ode to Savennières. It feels specifically non-fruity and lacking something, but maybe it's just tight. The 2003 tastes like toast, nuts, lime, petrol, perfume, cheese, and Mahjong tiles.
Hunter Valley Semillon is an enigma (that I'm almost completely sure I've compared to Pikachu at one point) that can taste like battery acid and lemon juice when fresh but like ethereal toasty goodness with years and years of age. McWilliam's Mount Pleasant "Lovedale" Hunter Valley Semillon has their 2007 as their current release, though it still prompts waterfalls of saliva in my mouth along with the lemon curd, lemon zest, something slightly vegetal, and something a bit like fried eggs. A hint of meatiness, I suppose? The 1996 is apparently quite fragile so it's poured late, but in the glass it's nutty with a bit of elegant sherry-like quality that almost makes you wonder if you'll regret putting it in your mouth ("don't you put it in your mouth" etc). There's lots more lemon curd, honey, and an autumnal woodiness that weirdly reminds me of west side Vancouver. It's haunting – not in a sense that it's amazing and evocative and makes me want to quote bible verses, but just in a cool spectral way: it's like looking at a picture of someone, and then looking at a sepia-toned picture of their parents and trying to decipher where the resemblance kicks in. #THROWBACKTHURSDAY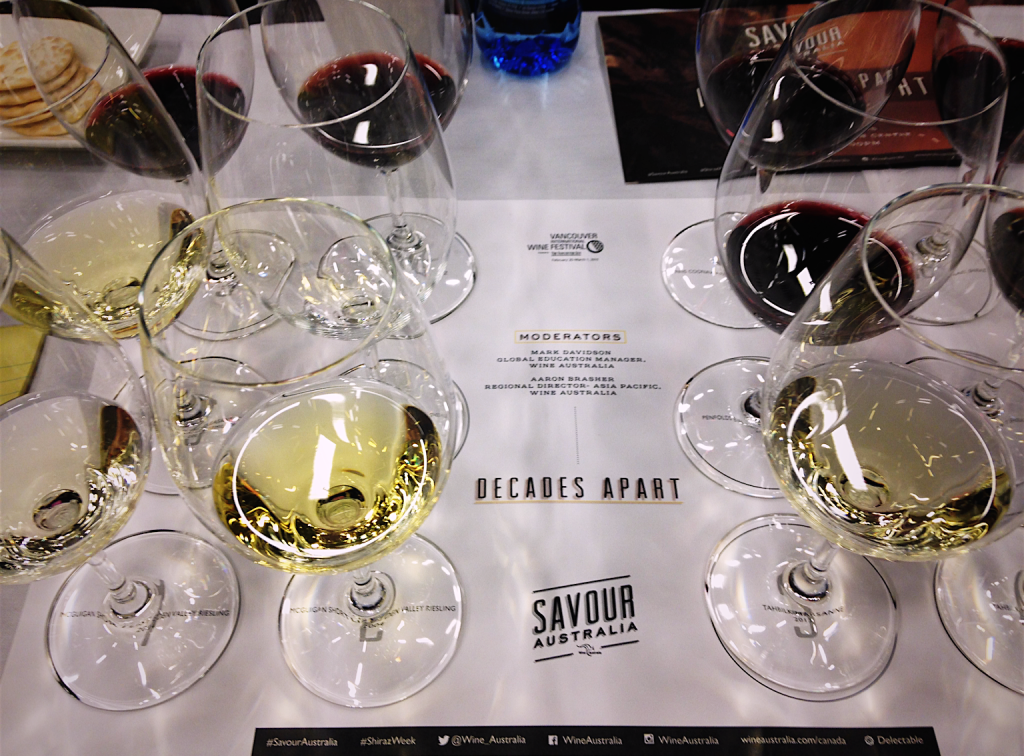 It's time for reds (and like, I've sufficiently cooled off at this point if you were worried about my life and its thick button-ups) and we taste the Penfolds "Bin 389" Cabernet Shiraz. The 2012 is iron-clad and muscular with lots of cassis, blackberry, and hints of Vicks VapoRub, while the palate is full-bodied with a protective screen of high acid and moderate tannin. The 2002 counterpart is much more spicy and dominated with red peppers, spice, leather, and evolved fruit. It's definitely not a fruit bomb – but it's not a full-bodied mouth of old world dirt that you aren't sure is off or not – and it's confidently in that young adult stage of life. After each pair of wine, we're casually polled on which wine in the pair is our favourite, and I assumed everyone in the room was a pretentious fuck for always picking the older one in the pair, but it seems like the 2012 was slightly more popular this round.
The pair of St Hallet "Old Block" Shiraz wines are from the Barossa: the 2010 is full of textbook cassis and black pepper, but there's a hint of soy sauce that's making me hungry along with a bit of peppermint and cola. The older 1999 has something that distinctively reminds me of the dentist's office, and I think it's just because it has more of that sterile peppermint quality among a sweaty ashiness and oak, like someone set the the North Pole and Santa's Workshop on fire. But like, in a totally delicious way. There's so much concentration that it's almost hard to tell that it's 16 years old.
Compared to the Barossa Cabs of the last pair, the Wynns Coonawarra Estate "Michael" Shiraz wines seemed to have less cola and ash in favour for more eucalypt tones. The 2010 was most certainly berry-forward and almost talkative but cleansing. A touch of smoke on the 1994 with more obvious herbal flavour, and the palate has a super lush and savoury profile.
Cool stuff. Super into it.
Moderators:
Mark Davidson – Global Education Manager, Wine Australia
Aaron Brasher – Regional Director – Asia Pacific, Wine Australia
Panel:
Neil McGuigan – McGuigan Wines
Craig Stephenson – McWilliam's Family Winemakers
Sue Hodder – Wynns Coonawarra Estate
Luke Higgins – St Hallett
Matt Herde – Tahbilk Group
Dlynn Proctor – Penfolds