12 other white Italian grapes for when you're over Pinot Grigio
It's clear that we've taken a departure from the experimental seminars of 2015's Australia to the tacit themes of longevity and traditionalism of 2016's theme of Italy for the Vancouver International Wine Festival. It's expected that the colossal tasting room is skewed towards the stars of Tuscany, Piedmont, and Veneto, so this leaves the underdogs few and far between. There is not one Dolcetto (yeah I know: who cares) nor one pearl-clutching Franciacorta being poured during the whole festival, nor are there enough Montepulciano for me to make a terrible d'Ab(ruzzo) joke, so last year's boner for Australian Touriga Nacional would have to be partially satiated by a seminar on all things white and distinctively not Pinot Grigio. I often find the whites of Italy frustratingly subtle – which probably says more about my taste above anything else – but this'll be a nice opportunity to break things down past this pigeonhole.
Vampire Weekend's "Unbelievers" is the chosen song for the pre-seminar slideshow. Good sign?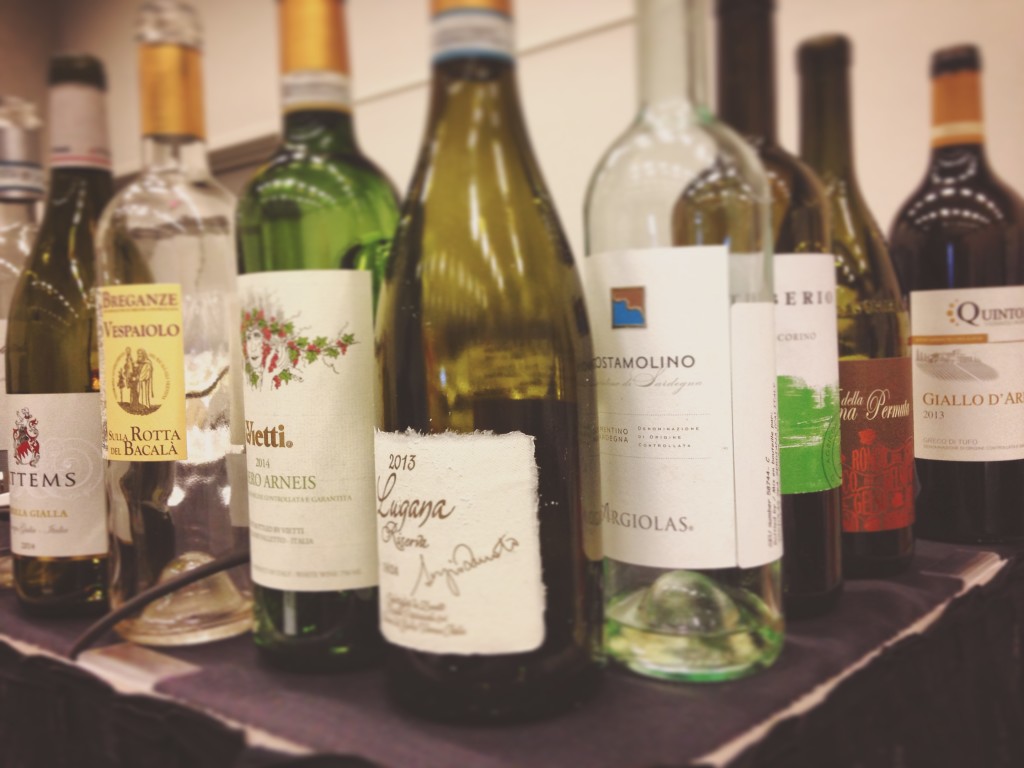 Leader for the seminar is Ian d'Agata, the supremely encyclopaedic author of the substantial "Native Wine Grapes of Italy" tome; scientific director of Vinitaly International Academy; writer for Vinous and Decanter; and owner of a laugh worthy of being a ringtone (I'm sure ian_laugh_5b.mp3 is floating somewhere). Other moderators for this session include Michaela Morris and Gurvinder Bhatia.
(And yes: I know that Pinot Grigio isn't technically an Italian grape. Sit down.)
We started with the Mionetto Valdobbiadene Superiore di Cartizze Prosecco Dry ($40), rather pricey because these particular Glera grapes are grown on the hill of Cartizze, allowing longer hanging time, and therefore sweeter-tasting fruit without an adverse drop in acid. The land is so coveted and legit that it's currently more expensive than that of Barolo or Montalcino (!). Ian discusses, that within Italy's tangled system of appellations, the distinction between Prosecco's higher tiers of the Conegliano and Valdobbiadene regions is one of the few that make sense: the former is often a bit fruitier and pleasantly balanced with some bitter notes, while the latter is often more floral and subtle. The Glera signature, though, is that of white peach: this is well-contained amongst the chalkiness and white flowers here, as well as a pinch of something a bit green and herbaceous. The palate yields a Prosecco that feels creamier and fuller than most, complete with a refreshing floral ending. I think it's slightly Alanis-Morisette-ironic that I'm resenting these bright lights because of one too many Bellinis consumed 12 hours prior, but I guess that's what you get for getting wasted on a Tuesday evening. #fullcircle
Vespaiola is one of those odd random grapes that one has to remember for wine exams. It essentially belongs to the relatively obscure Breganze DOC in Veneto, but its on-paper personality seems unapologetically dull: Vespaiola's signature is its naturally high tartaric acid and its elevated level of terpenes, contributing to lightly floral and herbaceous tones. But it reaches its pinnacle when made into a sweet wine, which is where its cleansing brightness comes in handy. The Beato Bartolomeo Breganze 2014 "Sulla Rotta del Bacalà" Vespaiolo ($29) was expectedly on the neutral side, but was subtly perfumed with green fruit and dried white flowers; acidity was high but not so piercing, ending with potpourri. Bonus fact: the name of the grape comes from the word "wasp" in Italian.
Ribolla Gialla, according to Ian, is a "victim of its own versatility", which I suppose means that the vigorous grape is being treated this way and that, sparkling or with extended maceration – or perhaps both? – instead of letting its real personality shine. Every coming-of-age teen movie ever? Ian says that the Attems 2014 Ribolla Gialla IGT ($20) from Venezia Giulia is quite archetypal for the heat-loving grape, with heavily perfumed white flowers, citrus zest, and lots of white pepper. The ethereality is concentrated on the palate with a round and saline ending, less so like every coming-of-age teen movie ever, I think. Still haven't watched the Breakfast Club. It's not about toast, right???
I've never really been a fan of Arneis which makes me feel bad because so much work has been done just to get it out of near-extinction. Vietti is often credited as the main hero: their Vietti 2013 Roero Arneis DOCG ($40) is gently floral with some pear fruit and a bit of peachy flavour; the signature bit of herbaceous hoppy character reminiscent of some French rosé is here as well, and the body is creamy with a bit of a cheeky tactile edge that I swear might be a whisper of tannin. The grape was historically a martyr for Nebbiolo, a grape whose juice Arneis once used to soften under the "Nebbiolo Bianco" synonym, and a grape that was grown for the purpose of being eaten by birds in the vineyard so that Nebbiolo would be untouched. I'm seeing some Skyler White parallels here but I won't open that bottle.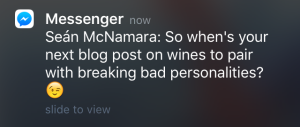 I've always been a fan of Soave and its main constituent, Garganega, because of the elegant creaminess and nuttiness the wines can often exude at their best. The Tedeschi 2014 "Capitel Tenda" Soave Classico DOC ($30) is quite heady and musky; maybe something a bit medicinal. On the palate, there's something a bit like caramel apple? Maybe marzipan, or bits of nougat? The body is on the fuller side but but with a bright middle and a creamy peach undertone that ends in citrus zest. The wines that the grape can produce are apparently ageworthy, as long as Treb's vigorous yields are kept in check: a flaw that too often results in dull and watery wine.
Enter the Zenato Azienda Vitivinicola 2013 "Sergio Zenato" Lugana Riserva DOC ($44): first I was pretty sure "Lugana" was the grape, but it's Turbiana – then I was led to Trebbiano di Lugana, which then led me to Verdicchio Bianco. But now my tasting note seems to make sense: one of my favourite Italian grapes was hidden behind a synonym. It's quite grapey and flirty on the nose, almost reminiscent of Fuzzy Peaches, and the French oak is well-integrated in the form of spice and bits of vanilla. There's a fantastic interplay of peach, ripe citrus, vanilla, mocha, and cinnamon on the palate, while the velvety texture and vibrant acidity make the wine sing. Ace. Unbuttoning my shirt.
Ian says that Vermentino is a grape that's a bit schizophrenic, and that of the many Italian grapes, it's the one that "aught to be in therapy". I immediately think that I must be tasting the wrong ones, because all the Vermentino I've mostly tried are forgettable copy-and-paste wines with nothing more than a bit of interchangeable vague fruit. Early harvests, he said, catch Vermentino when it has a strong thiolic component, which results in a Sauvignon Blanc-like personality of mineral, passionfruit, green figs, and the like; a later harvest catches Vermentino with a higher proportion of terpenic molecules, attributing to flavours along the lines of musk and hay. The Argiolas 2014 "Costamolino" Vermentino di Sardegna DOC ($21) is full of apples, pears, and flowers. There's a bit of residge which rounds out the palate, but the flavours are concentrated, savoury, and a bit saline.
Along with Vermentino, Pecorino is apparently one of Italy's most popular white grapes. Compared to other Italian grape varieties, the mountain-loving grape doesn't yield as much, and its vinous fingerprint is expressed with Sauvignon-like aromatics like sage and rosemary, though from some examples I'm convinced that a hazelnut flavour can be an essential trademark as well. At first, I don't get much off of the Tiberio 2014 Pecorino IGP ($33) except for some gentle herbaceous character among the citrus, but the palate is light-footed and bright with a bit of nutty and savoury character.
I don't drink Malvasia because, well – I can hardly find any – and because opening any substantial wine resource to the "Malvasia" entry is daunting, since its genetic permutations and varying histories seem endless. The Ronco del Gelso 2014 "Vigna della Permuta" Malvasia ($32) from Isonzo DOC is not as persuasively tropical or fleshy as many of the other versions of the grape I've tried, though the nose is rosewater-scented with bits of ripe peach, pear, and something dried and herbal, like hay. The expression on the palate is quite savoury, full of wet stone and salted lemon. The version of Malvasia used here is called Malvasia Istrana, and indeed Wine Grapes describes its propensity for freshness compared to its fuller counterparts.
Greco is one of the white grapes that can be a little more tannic, being richer in polyphenols. The Quintodecimo 2013 "Giallo d'Arles" Greco di Tufo DOCG ($70) was indeed quite textured and expressive on the palate, with white peach and its pith along with juicy lemony dazzle. The nose wasn't as revealing, with soft stone fruit, a hint of banana, and something along the lines of Mahjong tiles: something I also detected in the Tahbilk 2003 Marsanne from Australia. I don't drink Greco as often as I should. Drooling, but also loosening my invisible tie at the price point.
The dry wines end here, and we have two wines from two different varieties of Moscato: the Tenuta Olim Bauda 2015 "Centive" Moscato d'Asti DOCG ($29) made from Moscato Bianco, and the Donnafugata 2011 "Ben Ryé" Passito di Pantelleria DOC ($43) which is made from Moscato d'Alessandria (or, the more entertaining name, Zibibbo), a coarser and fleshier version that expresses more raisin, figs, and aromatic herbs compared to the fresher and smaller-berried former. The water-white Moscato d'Asti is a lot more elegant than a lot of the wines I've gotten to know in the same category, where flowers take centre stage rather than explosive fruitiness, adorned with mineral edges, a gentle wave of mousse, and limey acidity. The amber-coloured Passito di Pantelleria, made from dried grapes, smells of burnt orange, figs, dates, spice, and candied peach, covering the tongue in a caramelized and textured blanket ending in orange pith and just enough lift.
<3