Cantina Valpantena 2012 "Torre del Falasco" Valpolicella Ripasso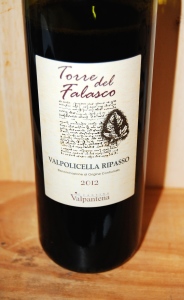 For some reason I'm never drawn to Valpolicella these days – or ever, really – but I hear its name pop up more than I'd expect. I can see it becoming a trendy wine in Vancouver (if not already), it being a middling restaurant-friendly red with a spiffy name and style versatility.
It's been a while since I've had actively had one. More than two years ago. (Ew.)
Black cherry and cola are the main stars here, and there's a subtle dried herby undergrowth on the nose. Sage, I think. I learned well about herbs that one time I bought a bunch of them to bake chicken, and there was that one golden moment where I'm sure I made the ghosts in the house laugh when I accidentally snorted dried marjoram.
There's a bit of spice and earth as well, and oak isn't super gaudy on the nose. The palate is ripe and structured but soft, and ripe black cherry notes mingle with hints of vanilla and dark chocolate onto an earthy finish. Acid is there but it's well-woven – I hope the guy I recommended this to wasn't scared off, since he was looking for an introductory benchmark Italian wine. I eventually deducted that he wasn't a big fan of acid, so I treaded carefully.
It's hard to tell whether or not a wine is opening up as I'm letting it breathe, or whether or not I'm just getting more drunk so that it seems more complex. That being said, I think this wine takes just a small amount of time to open up.
Tasting Note:
Eyes: clear, med ruby, legs
Nose: clean, med+ intensity, youthful, cherry, dried red fruit, black fruit, black cherry, cola, blueberry, spice, earth, dried herbs
Mouth: dry, med body, med+ acid, med fine tannin, med+ alcohol, med+ to pronounced intensity, red fruit, cherry, black cherry, dark fruit, berries, hint dark chocolate, vanilla, spice, med length
Producer: Cantina Valpantena
Designation: "Torre del Falasco"
Region: Italy
Sub-Region: Valpolicella Ripasso DOC, Veneto
Variety: Corvina Veronese, Corvinone, Rondinella
ABV: 13.5%
Vintage: 2012
Tasted: November 16, 2014
Price: $25