2007 Le Ragose Classico Superiore Valpolicella
Tasting Notes:
Eyes: clear, med- ruby
Nose: med- to med intensity, red fruit (sour cherry, hints of strawberry), black pepper, cloves, liquorice, earthy
Mouth: dry, med body, med- tannin, med+ acidity, med to med+ length, sour cherry
All in all: Good quality, drink now; save the bones for something more interesting.
So lots today happened in my world of alcohol. Just after tying up my Superman chucks and opening the door to jet out to the bus that's almost at my bus stop, I see this huge package in my mailbox which I can only hope is my WSET Advanced-level books. And it is. So I snatch it and run for my bus. I dizzily flip through it and end up with some lack-of-sleep-early-morning-physical-extertion-motion-sickness nausea, but new books, or new reading material – new anything, for that matter, is too exciting to pass. </consumerism>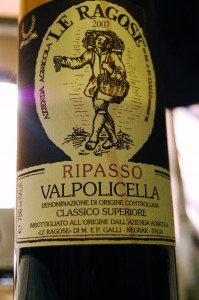 I also accidentally knocked over a 12-bottle box of beer. Thankfully only one of the bottles broke. But yeah. Tuesdays are delivery days and so I happened to bring in some exciting physics to an otherwise decent day.
Also bought a couple more beers to try (for extending my knowledge, of course…). The Samuel Smith's Raspberry Fruit Ale is apparently good (I've only ever had the strawberry). Another colleague suggested two more beers which I shall try later.
Anyways, I digress. Another colleague has once again chosen a wine for me to taste blind. Apparently it takes a while for the wine to open up, which I can understand – all I got at first were notes of basic red fruit, and vague spicy aromas of black pepper, cloves, and liquorice. Sour cherry notes are starting to appear, as well as this earthiness. I know I should let it open up more, but I can't help but want to reveal this wine soon. It's reminiscent of this BC Pinot Noir I had recently – that earthiness is coming through. What strikes me different are the notes of sour cherry, though. I'm going with either Pinot Noir, Grenache or perhaps something light like a Valpolicella. I'm thinking of risking a new world guess, although it's hard to tell. I don't know. It's not too complex (but at the same time, it's not boring and simple) – I wouldn't price this higher than 25 dollars, and that's already a stretch. I can tell that the quality is good though. Nothing sticks out. Good structure.
Aha! Revealed. The Italian classic-looking label honestly made my heart drop, because I was really settled on the Grenache thing, but at least I considered a Valpolicella. The price though – the price is almost ridiculous, I think. I'm honestly not that impressed with it – but I'll give it another chance to open up. I don't know, though – maybe it's because I recently went to a wine fair where I literally tasted around 50 Italian wines in a row. So maybe I'm subconsciously and temporarily numb to them.
All in all, it was okay. Nothing special, although this was balanced and solid – I'll give it that much.
Edit: it turns out that a lot of people at work were really one-or-the-other about this wine. Literally half of my colleagues didn't really enjoy it while the other half really liked it. And apparently the Ripasso method thing was supposed to throw me off. I guess it kinda did.
Producer: Le Ragose
Designation: Classico Superiore
Region: Italy
Sub-Region: Valpolicella, Veneto
Variety: Corvina, Rondinella, Corvinone
ABV: 13.5%
Vintage: 2007
Tasted: May 1, 2012
Price: $38 (Liberty)