White Swan: Domaine Christian Moreau 2012 Valmur Chablis Grand Cru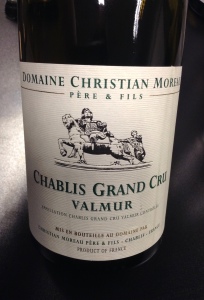 [Tasted during WSET Diploma – Unit 3 – Week 8: Burgundy]
Chablis, to me, is the pinnacle of perfection: not so much in a sense that it's a wine that's perfect and orgasmic, but more the fact that it strives to be something so pristine, crisp, calm, and complex, not unlike a snowflake.
The White Swan i.e. Nina Sayers comes to mind, where perfection is bitingly found but the wine is almost too young and needs lots of time to develop. Crisp notes of mineral, green apple, pear, a hint of oak (purportedly), cream, and something reminiscent to Loire Chenin that's very wool and mushroom-like are found on the nose, and the palate reverberates the flavours with more intensity.
There's a beautiful juxtaposition of young richness and brisk acid; a concentration of flavours that have lots of finesse. The flavours also last quite long on the palate, and it'll be exciting to see how this develops over the next couple of years. The instructor said that it was great even to just enjoy now, but at the price I'd cellar it for a few years and see how it untangles itself.
Tasting Note:
Eyes: clear, pale lemon, legs
Nose: clean, youthful, med intensity, mineral, cream, green fruit, green apple, hint oak, crisp pear, hint wool
Mouth: dry, med body, med+ intensity, high acid, richness, med alcohol, cream, minerality, green fruit, green apple, lemon, apple, citrus, long length, hint oak
All in all: Outstanding quality: though complex tertiary flavours still need time to develop, it's amazing to see the balance of richness with crispness, minerality and fruit that show past the high acid, and a long finessed finish. Can drink now, but has potential for ageing.

Producer: Domaine Christian Moreau
Designation: Grand Cru
Region: Burgundy
Sub-Region: Chablis Grand Cru (Valmur)
Variety: Chardonnay
ABV: 13%
Vintage: 2012
Tasted: December 8, 2014
Price: $70