"Supermassive Black Hole" – Muse: Vasse Felix 2010 Cabernet Sauvignon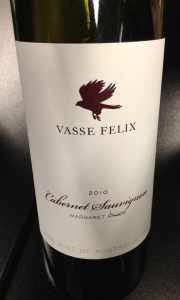 [Tasted during WSET Diploma – Unit 3 – Week 7: Australia]
This was the penultimate wine in the flight, and it was chosen to provide a contrast to the last wine. They obviously differed in age, at first glance, but the instructor also wanted to display the different manifestations of greenness. It's one of my favourite things to teach, because I love telling the story about how my friend and I thought that the Château Cailleteau Bergeron 2012 Sauvignon Blanc had a distinct note of marijuana (though the vintages on either side were more distinctly grapefruit-scented). In this case, apparently Margaret River Cab has more of a minty character opposed to the classic eucalyptus note of Coonawarra Cab.
It was amazing how mouth-coating the flavours were without bringing down the animated freshness, like an umbrella keeping your socks and smiles dry during a rainstorm. Green pepper, mint, spice, and earth were superimposed on youthful cassis and jam.
Vasse Felix is the oldest winery in the Margaret River region of Western Australia. I've only ever had whites from them, and so far I'm impressed.
I've heard whispers that Muse and their team like Bordeaux and Burgundy, but Supermassive Black Hole is definitely more akin to a new world equivalent, whose respective mesoclimate is often compared to a dry vintage in Bordeaux, anyways.
Tasting Note:
Eyes: clean, deep ruby, legs
Nose: clean, med+ intensity, youthful, mint, ripe black fruit, cassis, earth, cola, green pepper
Mouth: dry, pronounced intensity, med+ body, cassis, black fruit, blackcurrant jam, high acid, med+ alcohol, med+ fine tannin, med length
All in all: Very good quality: ordinary length is shadowed by a complex, superlative, and intense palate. The wine impressively retains some sort of freshness and finesses despite juicy and heavy flavours. Can drink now, but has potential for ageing.
Identity Guess: High-priced Cabernet Sauvignon from Coonawarra, South Australia; 2 years old.
Is really: Premium Cabernet Sauvignon from Western Australia; 4 years old.
Producer: Vasse Felix
Designation: N/A
Region: Australia
Sub-Region: Margaret River, Western Australia
Variety: Cabernet Sauvignon
ABV: 14.5%
Vintage: 2010
Tasted: December 1, 2014
Price: $50