"Summer Girl" – White Wires: Peter Lehmann 2009 "8 Songs" Shiraz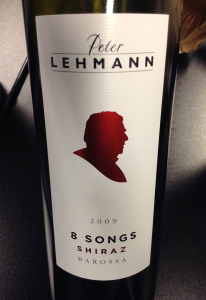 [Tasted during WSET Diploma – Unit 3 – Week 7: Australia]
When a lot of people think of Australia they think of Barossa Shiraz, sort of like when heavy drinking and ridiculous dancing comes to mind when people hear my name. Hey, don't deny it.
The hot region produces big and mouth-filling examples, but I've come across some Barossa examples that don't seem as full-bodied as they should be, and I wonder if there's a trend to break away from the typecast mould of bloated Australian reds. I'm staying right here.
This was more on the typical side, with youthful black fruit, blackberry compote, cola, and spice flavours showing on both the nose and palate, along with cleansing acidity. Power over subtlety, here, and piercing rather than confounding. Not as viscous and muddy as some Barossa Shiraz I've gotten to know, but it works for this wine. Vibrant; intense; knows its limits.
Surprisingly (or maybe not) youthful for five years of age, and I wonder how this showed years ago.
Tasting Note:
Eyes: clear, deep ruby, legs
Nose: clean, med+ intensity, youthful, hint black cherry, baked black fruit, blackberry, cola, blackberry compote, spice, vanilla, hint earth
Mouth: dry, med body, med+ intensity, med+ acid, med+ length, baked black cherry, blackberry compote, med+ fine tannin, savoury med+ alcohol
All in all: Very good quality: its power comes not from its overcomplexity but from its intensity and the strapping balance between jammy fruit and present structure. Can drink now, but has potential for ageing.
Identity Guess: High-priced Shiraz from Barossa Valley, South Australia; 2 years old.
Is really: Premium Shiraz from Barossa Valley, South Australia; 5 years old.
Producer: Peter Lehmann
Designation: "8 Songs"
Region: Australia
Sub-Region: Barossa Valley, South Australia
Variety: Shiraz
ABV: 14.5%
Vintage: 2009
Tasted: December 1, 2014
Price: $45