Lazy summer nights: Yalumba 2013 Old Bush Vine Grenache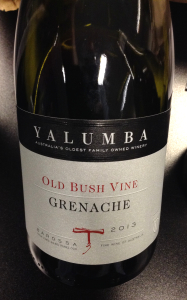 [Tasted during WSET Diploma – Unit 3 – Week 7: Australia]
Grenache, especially from the new world, is the alcoholic embodiment of lazy summer nights in your underwear at home while your gut hangs out and all you want to do is watch videos of cats and turn on Netflix. (Wow, invite me over already and I'll bring the pizza.)
The grape is an early budder and late ripener, and therefore needs sunlight and heat. It's also a plump grape with thin skins, which equates to a fuller body without being too tannically textured, and let's not forget about how much alcohol the grape can pump out as a result of its own gut. The grape isn't often impressively intense in flavours, but all these reasons are exactly why Grenache is often blended. Grenache is Type B, while Syrah adds sass. And then there are the backup singers.
There was ripe and candied red fruit from this wine, mostly, only helping the image of a lazy summer. There was a bit of spice and what a classmate cleverly picked up as peppermint chocolate, but the wine was devoid of the leather and flowers I often pick up in the old world counterparts. I'm not complaining, though – that whole first paragraph sounds really appealing to me right about now.
Tasting Note:
Eyes: clear, med ruby, legs
Nose: clean, med intensity, youthful, sweet red fruit, baked strawberry, spice, white pepper, candied red fruit, hint floral, peppermint
Mouth: dry, med+ body, med intensity, med acid, med+ alcohol, baked red fruit, ripe strawberry, gumminess, med very fine tannin, med length
All in all: Good quality: great example of a relatively simpler Grenache, with well-balanced low acid and big baked flavours that don't overwhelm the palate. Average length. Drink now: not suitable for ageing or further ageing.
Identity Guess: Mid-priced Grenache from McLaren Vale, South Australia; 2 years old.
Is really: Mid-priced Grenache from Barossa Valley, South Australia; 1 year old.
Producer: Yalumba
Designation: Old Vine
Region: Australia
Sub-Region: Barossa Valley, South Australia
Variety: Grenache
ABV: 14.5%
Vintage: 2013
Tasted: December 1, 2014
Price: $25