"Scenic World" – Beirut: Tahbilk 2011 Marsanne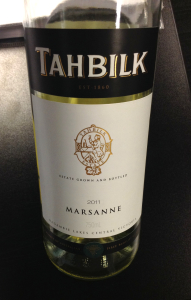 [Tasted during WSET Diploma – Unit 3 – Week 7: Australia]
I've had this wine several times in the past, and I'm stoked that I had it in a blind setting to confirm my thoughts! I had this wine for the first time a couple of years ago (though a different vintage, I'm sure) when I was just getting into wine, hardly knowing that Marsanne was a grape and that Australia grew it. Upon smelling it, at the time, I was reminded of some sort of rubbery and mineral-driven Australian Riesling with a similar limey edge, but with lower acidity.
There's a hint of that honeyed element that I find some descriptions exaggerate, in terms of Marsanne, but I've been able to pick it up the more and more I try this wine, and now blind. It's quirky and fun. Apparently the instructor for this week got this wine incorrect on his MW tasting exam, and though I'm a mere wine plebeian, I can see why.
Along with this one, I've also had a chance to try the 2007 Museum Release and also the 2008 Museum Release, the former which still seems tightly tangled and the latter which seems to be currently gleaming its gold a little bit better.
I guessed this as some sort of softer Semillon, like a Semillon and Sauvignon Blend, though that was just a shot in the dark because there wasn't any of Savvy B's greenish character that I could pick up.
Tasting Note:
Eyes: clear, med lemon, legs
Nose: clean, med+ intensity, youthful, mineral, green fruit, green apple, citrus, lime, candied lime, honey
Mouth: dry, med- body, med acid, med- alcohol, med intensity, med+ length, hint honey, green apple, green fruit, citrus, lime
All in all: Good quality: an intense an exuberant nose could use a little more complexity and intensity on the palate, but the wine is well-balanced and the flavours last.
Identity Guess: Mid-priced blend (Sauvignon Blanc & Semillon) from Margaret River, Australia; 2 years old.
Is really: Mid-priced Marsanne from Victoria, Australia; 3 years old.
Producer: Tahbilk
Designation: N/A
Region: Australia
Sub-Region: Nagambie Lakes, Goulburn Valley, Victoria
Variety: Marsanne
ABV: 11.5%
Vintage: 2011
Tasted: December 1, 2014
Price: $20