Because you know I'm all about that bass: Fraser Gallop 2011 Chardonnay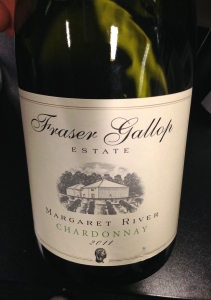 [Tasted during WSET Diploma – Unit 3 – Week 7: Australia]
It's so easy to typecast Australian white wines as nothing but pillowy Chardonnays – and it's a fair statement if you compared Australia to, say, Burgundy. But Australia is a huge place, spanning the same area as a good chunk of Europe's grape-growing regions, and it makes sense that there are lots and lots of exceptions to the rule.
This Chardonnay from Western Australia had higher acid than I expected (though it was probably selected to show the potential of Australia for such things), and it also had this toasted nut character I find in Australian Chards, which seem to be clouded by buttery creamed corn in a lot of Californian versions.
I'm a big fan. Body was viscous, and there was a hint of mushroom on the palate which was unexpectedly fun, while the creamy palate had girth, structure, and length. It's interesting to describe and experience fuller-bodied and creamy whites that still have textural lift, and this wine has just that.
Tasting Note:
Eyes: clear, pale lemon, legs
Nose: clean, med intensity, developing, roasted nuts, butter, yogurt, cream, vanilla, kernel
Mouth: dry, med+ body, med+ intensity, med+ acid, med+ length, med+ alcohol, roasted nuts, cream, mushroom, vanilla
All in all: Very good quality: this Chardonnay has intense secondary characteristics that could use just a bit more complexity, but the balanced flavours and elegant acidity are quite impressive.  Great length. Can drink now, but has potential for ageing.
Identity Guess: High-priced Chardonnay from Margaret River, Western Australia; 2 years old.
Is really: High-priced Chardonnay from Margaret River, Western Australia; 3 years old.
Producer: Fraser Gallop
Designation: N/A
Region: Australia
Sub-Region: Margaret River, Western Australia
Variety: Chardonnay
ABV: 13.5%
Vintage: 2011
Tasted: December 1, 2014
Price: $35