Rosé from Gris: 2013 Domaine de Reuilly Rosé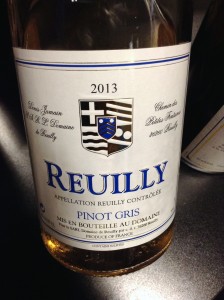 [Tasted during WSET Diploma – Unit 3 – Week 2: Loire Valley]
A rosé from Pinot Gris, a grape that normally makes white wines, might be strange to some people, though the pink-skinned grape can make wines familiar to some people in the local BC market. Producers like Nichol and Kettle Valley come to mind right away: I wonder if the winemakers have been inspired by such a small region with an esoteric style – if that were the case, then that's pretty awesome, knowing that this kind of rosé isn't an overdone style that's executed to make money. It's a nod and a twist and a sashay.
I'm glad we tried a wine from Reuilly, because it's one of those tiny appellations often eclipsed by the big boys in its respective area, like Sancerre and Pouilly-Fumé. The region does make its fair share of gentle Sancerre-esque whites, but the region is also known for its rosés made from Pinot Noir and more so Pinot Gris, along with some light reds made from Pinot Noir.
The wine was good to very good quality. Flavours were mostly in the green fruit and stone fruit range, most notably baked pear and white peach. There was a fantastic balance of minerality as well, with floral notes and a savoury texture also joining the mix. It's amazing how close the BC versions are to the classic superlative example in the Loire.
Tasting Note:
Eyes: clear, pale onion skin, legs
Nose: clean, med intensity, youthful, stone fruit, floral, white peach, ripe citrus, lemon, mineral, nectarine, baked pear
Mouth: dry, med body, high acid, med+ flavour intensity, floral, stone fruit, white peach, peach, citrus, lemon, baked pear, mineral, med+ length, med alcohol
All in all: Very good quality: the high acid is balanced with the fruit, and the length stretches the flavours through to a longish finish. Though the wine could use a bit more complexity, the stone fruit, floral, and baked pear notes show through with good intensity. Drink now: not suitable for ageing or further ageing.
Identity Guess: Mid-priced Reuilly Rosé from Loire Valley, France; 2 years old.
Is really: Mid-priced Reuilly Rosé from Loire Valley, France; 2 years old.
Producer: Domaine de Reuilly
Designation: N/A
Region: France
Sub-Region: Reuilly AOC, Loire Valley
Variety: Pinot Gris
ABV: 12.5% (I think)
Vintage: 2013
Tasted: October 20, 2014
Price: $25