The quietest Sancerre that ever was: 2012 Pascal Cotat "Les Monts Damnés" Sancerre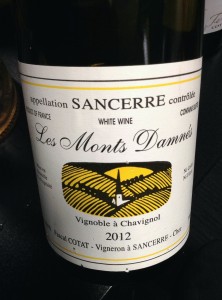 [Tasted during WSET Diploma – Unit 3 – Week 2: Loire Valley]
The previous wine in this flight was a juicy and exuberant Loire Sauvignon Blanc. This second wine was the complete opposite, with super-restrained flavours hiding behind a shield of acid and maybe just a hint of texture. Everyone and I thought this was a Muscadet, which is a Loire wine made from the super-neutral Melon de Bourgogne grape. The grape is moulded into a textured and yeasty wine by processes involving storing the wine over fine lees (dead yeast cells), so all of it made sense, and almost everyone thought this was one of acceptable to good quality – lifeless but satisfactory.
So it turns out this was a 63-dollar wine from a well-reputed producer. This shocked everyone in the class, and my request to revisit the wine for a second pour was mirrored by everyone else. It was just so neutral – a dumb phase, perhaps, requiring a bit of age to open up, plus, possibly, a relatively tougher vintage which shrouded the wine from being its usual self. There was some texture and a longer finish that bumped up the quality, according to instructor, and maybe the acid was unbalanced in this case, which, like the vintage, veiled the wine from its true elements. A bit of a mineral funkiness found itself on both the nose and the palate, but the whole flavour profile was so quiet to begin with that you're not sure whether or not you're picking these things out of nowhere.
Apparently this is a Loire Sauvignon Blanc that's supposed to emphasize terroir unlike the previous wine in the flight which was punchier and more "obviously Sauvignon Blanc" in style. We were posed a question: would we have placed this in the same quality camp if we were told this was from Burgundy? Fair point. I guess if you were to look at it from a high-quality standpoint, it most certainly resembles the steely Chablis of northern Burgundy.
Tasting Note:
Eyes: clear, pale lemon-green, legs
Nose: clean, low to med- intensity, youthful, mineral, flint, citrus, green apple, some sort of funkiness
Mouth: dry, med- body, high acid, med- alcohol, med+ length, med- flavour intensity, green apple, mineral, savoury, yeasty?
All in all: Good quality: length and texture save this wine, where it lacks from acid that hides the fruit or much complexity. Can drink now, but has potential for short term ageing.
Identity Guess: Inexpensive Muscadet from Loire Valley, France; 3 years old.
Is really: Premium Sancerre from Loire Valley, France; 3 years old.
Producer: Pascal Cotat
Designation: "Les Monts Damnés"
Region: France
Sub-Region: Sancerre AOC, Loire Valley
Variety: Sauvignon Blanc
ABV: 12.5%
Vintage: 2012
Tasted: October 20, 2014
Price: $63