Bubble-less Champagne: 2010 Château de la Gravelle "Gorges" Muscadet Sèvre et Maine Sur Lie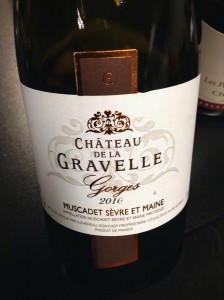 [Tasted during WSET Diploma – Unit 3 – Week 2: Loire Valley]
I'm straight up not the type of person to write home about Muscadet. The wine comes from the leftmost stretch of the Loire Valley in France, created by a neutral and fresh grape which can gain complexity from chilling on dead yeast cells, resulting in more texture and flavour. Its wines can often be bland and light on the nose with an old world monochrome template of mineral, green fruit, and hints of yeast. But the best examples, like in this wine, are much more expressive on the palate, with the yeasty, savoury, and bready components staging a complex dance on the tongue. You can tell that there's much more texture which comes out in the viscosity and creaminess.
Muscadet is literally like boring white bread. Do you remember the last time you've had really exciting white bread? Rarely do I come across white bread wines that veer into the very good category, but there's an interesting yeasty complexity on the palate. That being said, one of my classmates deemed this as only acceptable quality, and in that moment, I made the douchiest turn and eyebrow raise, so perhaps this style of wine is not for everyone. Or I'm just a douche.
One of my wine friends made the interesting analogy that Muscadet is like bubble-less Champagne: at the centre of the Venn diagram, they both have green fruit flavours, some citrus, high acid, and yeasty complexity; both pair classically with oysters. Though, they markedly have different textures, price points, and reputations – especially after really bad frosts cut production in 1991.
Tasting Note:
Eyes: clear, pale lemon, legs
Nose: clean, med- intensity, developing, yeasty, mineral, green fruit, green apple, bread, hint funkiness
Mouth: dry, med+ body, high acid, med- alcohol, med+ length, med+ flavour intensity, yeast, green fruit, green apple, citrus
All in all: Very good quality: yeasty complexity finds itself in an elegant wine where the palate's intense acid is in harmony with the lees character and fruit. The profile is typical, but leaves room for a bit more complexity and concentration. Drink now: not suitable for ageing or further ageing.
Identity Guess: Mid-priced Muscadet Sèvre et Maine from Loire Valley, France; 2 years old.
Is really: Mid-priced Muscadet Sèvre et Maine from Loire Valley, France; 4 years old.
Producer: Château de la Gravelle
Designation: "Gorges"; sur lie
Region: France
Sub-Region: Muscadet Sèvre et Maine AOC, Loire Valley
Variety: Melon de Bourgogne
ABV: 12.5%
Vintage: 2010
Tasted: October 20, 2014
Price: $22