The antithesis of Apothic: 2009 Charles Joguet "Les Petites Roches" Chinon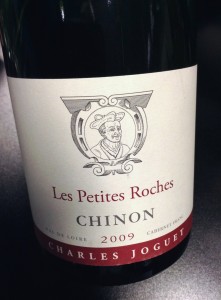 [Tasted during WSET Diploma – Unit 3 – Week 2: Loire Valley]
The last time I've had an old world Cabernet Franc was over a year ago when I had a Saumur-Champigny in class (wine class, that is). I'm sure I've forgotten what the classic example tastes like which is a weird shame because the style of wine, on paper, seems relatively uncomplicated and definitive: raspberry-dominated with red fruits, pencil shavings and perhaps brettanomyces amongst the earth, leafy greens, a medium depth of colour and body, and noticeable but reined tannin.
Maybe I'm not used to more aged examples – or just better examples in general – of the style, because the wine seemed much more full-bodied and in the darker black cherry fruit range than I expected. Sure, there was that raspberry quality all the descriptions rave about, but the fruits seemed much more stewed and evolved to me, and there was less leafiness than I expected (which I guess is a good thing), enough to convince me to propose the possibility of a Côt, which is essentially Loire Malbec. That being said, I've heard a similar note from someone else about another one of his wines, so maybe it's a stylistic thing. Maybe I'm completely missing what Cabernet Franc is all about – but so is everyone else, because it's basically the antithesis of Apothic – dry, lighter, leafy, rough, hipster. Only popular in its homeland, apparently – perhaps I'll find Cab Franc as a new grape to evangelize.
My off guard-ness aside, the wine was delicious. Structurally, the acid was high but in equilibrium with the fruit, and the tannins were relatively high but quite fine for a grape that can often be green – the fineness of the vintage and winemaking really showed, here. Youthful flavour characteristics are starting to develop the deep earthy and leathery tones reminiscent of a BDSM party in a raspberry bush. Can that be a term? "Cat's pee on a gooseberry bush" is SO 2002.
Tasting Note:
Eyes: clear, deep ruby, legs
Nose: clean, med+ intensity, youthful, black cherry, plum, pepper, stewed black fruit, earth, hint leather, dried violet, hint leafy, raspberry
Mouth: dry, med body, high acid, med flavour intensity, med alcohol, med+ chalky tannin, med+ length, black cherry, raspberry, stewed black fruit, dried floral, earth, mineral
All in all: Very good quality: the wine's fruit isn't overshadowed by the tannin, yet intensity on the palate will take some time to blossom. The wine does find complexity as well as length and concentration. Drink now, but has potential for ageing.
Identity Guess: Mid-priced Côt from Loire Valley, France; 4 years old.
Is really: High-priced Chinon from Loire Valley, France; 5 years old.
Producer: Charles Joguet
Designation: "Les Petites Roches"
Region: France
Sub-Region: Chinon AOC, Loire Valley
Variety: Cabernet Franc
ABV: 13%
Vintage: 2009
Tasted: October 20, 2014
Price: $40