And we'll never be royals: 2012 Maison des Bulliats Régnié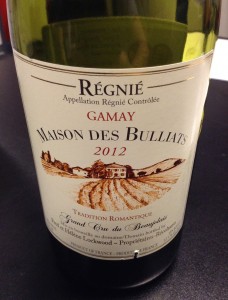 [Tasted during WSET Diploma – Unit 3 – Week 1]
It only strikes me now how overlapped the Venn diagram between Gamay and Barbera can be – both tend towards high acid and spicy red fruit, though both also grow differently and can be vinified differently in different subregions. Purer red fruit, for example, in Barbera d'Asti, and a bit spicier and darker in Barbera d'Alba, sort of like how you can get estery Gamay from Beaujolais Nouveau over to the earthier and grittier cru Beaujolais like this one. And suddenly my Sansa Stark = Cru Beaujolais and Arya Stark = Barbera d'Alba analogy sort of makes more sense.
This wasn't as complex as a Sansa Stark though. Spicy red fruits, yes, and a nice glowing acidity, but mostly fresh, and just fresh – and sometimes it's hard to be a fresh red. Thats the selling point of this one. The three reds in this flight were chosen to display different textures of tannin: in this wine, the tannins weren't exactly high by any means but were a bit coarse and astringent despite being sparse. We would then contrast this to the second wine, a 12-year-old Rioja Reserva, which had present yet chalky tannins, and then the third was a Syrah-based blend from Chile, which was intense and tannic – but was soft all at the same time.
I guessed this as Barbera, as did the classmate who was reading out his notes, probably due to the high acid and the hint of earthy scratch on the palate. Maybe not my favourite Cru Beaujolais, but the underdog region endlessly fascinates me and this is the first time I've consciously tried one from Régnié (though I remember bringing one to a wine tasting, perhaps), which has been the newest Cru of the region since 1988, rounding out the number of Cru Beaujolais up to 10. Which just sort of feels right. I mean, 9 is a great square number (and I love me a good square number), but there's just something about referring to the 10 Cru Beaujolais as the 10 Cru Beaujolais which feels a little more royal, and the region just needs a bit more royal in it.
Tasting Note:
Eyes: clear, med ruby, legs
Nose: clean, med intensity, youthful, red fruit, raspberry, cherry, spice, cinnamon, pepper
Mouth: dry, med- body, high acid, med- coarse/astringent tannin, med alcohol, med length, med flavour intensity, raspberry, cherry, sour plum, spice
All in all: Good quality: the lighter-bodied wine has structure, with an acidic profile and a bit of tannin framing the flavours. But the wine is perhaps slightly water and lacks intensity and complexity. Drink now: not suitable for ageing or further ageing.
Identity Guess: Mid-priced Barbera from Piedmont, Italy; 2 years old.
Is really: Mid-priced Gamay from Beaujolais, France; 2 years old.
Producer: Maison des Bulliats
Designation: N/A
Region: France
Sub-Region: Régnié AOP, Beaujolais
Variety: Gamay
ABV: 12.5%
Vintage: 2012
Tasted: October 6, 2014
Price: $22