Catelyn Stark: 2011 Domaine Raspail-Ay Gigondas
Tasting Note:
Eyes: clear, deep ruby, legs
Nose: clean, pronounced intensity, youthful, earth, spice, black pepper, hint dried herbs, black fruit, blackberry, mineral, hint menthol, hint cooked raspberry, hint cassis
Mouth:dry, med+ body, med acid, med+ fine tannin, high alcohol, med+ length, pronounced flavour intensity, spice, earth, black pepper, stemmy, black fruit, blackberry, mineral, ash
All in all: Very good quality: the balance is fantastic despite the high alcohol, and there is some structure that captures the warm-climate wine; the length is relatively long and the intensities pronounced. But the slight bit of shadowing tannins mean there are complexities to reveal with time, and the finish draws out a slightly stemmy character. Can drink now, but has potential for ageing.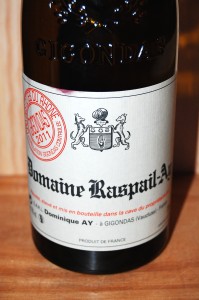 Today, this wine serves a double and perhaps triple-edged purpose: it's the Game of Thrones finale, so we need something at least slightly epic to drink; it was my brother's birthday and he's relatively new to wine (so we need something of an grand old-world-new-world wine); and it's another excuse for celebrating the ephemeral end-of-wine-exams period. I'm sure I passed but I don't think I performed in an outstanding fashion, so I should probably stop coming up with excuses to "celebrate". Oh well!
I chose the wine as something that could appeal to both my brother and I – a relatively rustic and classic old world appellation that's both earthy yet suits the ripe palate of my brother, who at this point probably prefers the ripe Zinfandels of the world. I could tell within the first sips of the glass that it probably shouldn't have been my first choice, as were the vintage charts and vintage reports telling me that 2011 was only at least satisfactory if not more than a solid stamp of good for the Rhône. But between the three other bottles in the running (a Priorat signed by the winemaker; a 10-year-old South African Syrah; a 2009 right bank-esque Bordeaux about which I'm being patient), I decided this was the appropriate one to open.
The wine combines an intense stemmy earthiness on the nose with more than a handful of blackberries for pronounced character, and the palate is similar. But the ripe notes, especially in the mouth, are balanced by a whiff of twig-like earthiness. There is a fair bit of structure which is always nice for a warmer-climate wine, but it's almost obvious that some of the character needs some taming. There's also a little less of that garrigue herbal brush in any form of flavour that people often write home about with regards to Rhône wines.
It's not bad – just wonderfully two-toned: both the entry on the nose and the finish on the palate give rise to spice and earth-dominated staidness, but the ripe black fruit fills the mid-sensation, especially on the mid-palate. This reminds me of the melancholy Stark family – and in this wine, a bit of that matriarchal warmth comes from the Grenache, but in this Syrah and Mourvèdre-supporting form of Gigondas, we see a lot of a the grounded Stark-like character, including the darker sides of Catelyn. I'm surely referring to her less-than-affable nature towards Jon Snow, but there's obviously something else. Wink.
There's also a bit of a thunderstorm going on right now which definitely mirrors the bittersweetness.
Producer: Domaine Raspail-Ay
Designation: N/A
Region: France
Sub-Region: Gigondas AOC, Southern Rhône
Variety: not indicated, but as per Gigondas AOC (2014 onwards, however – so this would be slightly inaccurate for this particular blend): min. 90% combined Grenache, Syrah, and Mourvèdre; min. 50% Grenache, min. 15% combined Syrah and Mourvèdre; plus other grapes.
ABV: 15%
Vintage: 2011
Tasted: June 15, 2014
Price: $45