Bree Van de Kamp: 1997 Dr. Bürklin-Wolf Ruppertsberger Gaisböhl "R" Riesling Auslese
Tasting Note:
Eyes: clear, med+ gold, legs
Nose: clean, med+ intensity, developing, mineral, ripe citrus, lemon curd, marmalade, red apple, baked apple, apple pie, peaches, petrol, spice, honey, floral
Mouth: medium-dry, med+ body, med acid, med- alcohol, med+ length, pronounced intensity, ripe apple, honey, spice, minerality, earth, lemon, peach, dried apricot, slate, pastry
All in all: Very good quality: this unctuous Riesling Auslese achieves great balance with the body, intensity, sugar, and acid. Alcohol has just the slightest imbalance despite a mere 11.5% ABV and there could be a little more complexity. But the intense concentration of what flavours are there is impressive. Drink now, not suitable for ageing.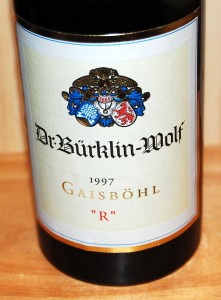 It's a Friday night. I've been home all day studying (and recovering from last night, for that matter) just to give myself an excuse to open something fantastic given I work through this fat stack of Champagne flash cards (which I did). So here we are, and I really wish I had a third arm that could possibly aid me in sipping some of this wine as I type with two of my normal human hands. Sex must be weirdly fantastic with a person that has three arms, but I guess it would depend where that hand exuded from the body. Are these the thoughts that flow through my mind with Auslese? Because I'm pretty sure picking out wedding colours comes with drinking white Rioja.
Anyways, I decided upon this bottle realizing how odd of a value it was – $38 for an Auslese older than 15 years is a steal. Two years ago, we had tried the 1995 Zilliken Riesling Auslese Saarburger Rausch in class, which was deemed a good deal at $59. Though that particular wine was in a slightly different style being from the Mosel, it really puts into perspective how fantastic this bottle is at 38 bones, and it makes you wonder what the fuck is wrong with it if at all anything. But it seems stupendous so far, and maybe I'm just extra excited that I'm no longer fruitlessly attempting to remember the dates at which some Champagne houses were established. Oy.
The wine. Dominated by ripe and baked pomaceous fruit, honey, and a present stroke of earthy and smoky minerality. A scoopful of the petrol we expect from Riesling but definitely much less than other aged German wines I've had. The palate is unctuous and full-bodied (I guess, sort of like me) – and it begins with a bit of sweetness but ends with a mini-streak of dry, spicy, and juicy minerality, almost bringing to mind an Alsatian Pinot Gris I've shamelessly poured into my head at one point. It's interesting but less so than other Auslesen I've had in the past, not to say that this was terrible. The price is still a steal.
The compelling sweet entry to dryish finish reminds me of the equally as compelling character with a heaping side of shady badassery, sort of like Cersei Lannister (who I absolutely love by the way – suck it), or Bree Van de Kamp. Because the wine starts off tasting like freshly baked apple pie and marmalade but then finishes by tasting like the stones used to batter you to death after you've littering the carpet with too many pie crust crumbs.
Producer: Dr. Bürklin-Wolf
Designation: "R"
Region: Germany
Sub-Region: Pfalz
Variety: Riesling
ABV: 11.5%
Vintage: 1997
Tasted: May 2, 2014
Price: $38