2005 Domaine Mersiol Grand Cru Frankstein Pinot Gris
Tasting Notes:
Eyes: clear, deep lemon
Nose: clean, med intensity, honey, floral, wood spice, sweet and oxidative notes (caramel), secondary aromas dominate, ripe apples
Mouth: off-dry to med sweetness, med+ body, med- to med acidity, med length, oily mouthfeel, bitter finish
All in all: Very good quality; drink now, but has potential for ageing.
So I had this wine picked out for me. Really interesting stuff. Beautiful deep lemon colour, coupled by an interesting nose quite reminiscent of a Vouvray I tried a couple weeks back. Instead, though, the honey and woodier spices were more pronounced, with the fruit taking a bit more of the back seat role in the vehicle that was this wine. Oh man. My analogies. Oxidative notes were present and integrated well with the spice notes. So like, the middle seat of the van. Or the front compartment where you keep your licence and registration.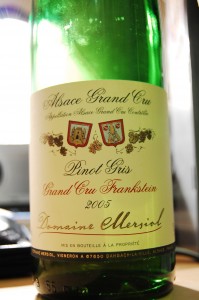 The palate was really interesting, and the sweetness is really hard to peg. The wine begins with this sweetness, but quickly becomes overtaken by this streak of bitterness and slight acidity that takes over the palate and has this two-toned sort of personality. You sort of get that teasing quality, but it's more of that alluring sweetness that gradually falls into that bitter badass quality. Very Saoirse Ronan from Hanna. lol my analogies.
The body is heavy and has that slightly oily mouthfeel, with just enough acidity to have good structure.
After tasting this wine, it reminded me more of a couple (very good value) Late Harvest Sauvignon Blanc wines I've had in the past, which, while sweet, still had that bitterness to back up the sweetness.
Although not Chenin Blanc, I did guess an Old World wine.
Germany? False.
France? Correct.
("Germany wasn't too far off…")
Alsace? Correct.
Then I guessed a whole crapload of grapes until I got to Pinot Gris, which surprised me, not only because I'm not a big fan of Pinot Gris, but because I didn't realize Pinot Gris could have such a distinct character and personality (even though I guess it did remind me of a lot of other wines I've had). Like the 2005 Champalou Vouvray, I'd like to (and am afraid to) see what more age can do to this wine, although it's wonderful as it is right now. I'm going to shamelessly brag that I guessed one year off of the actual vintage 🙂
This was delicious, and would maybe make for a great gift, but I can definitely say that there are similar wines that are lesser wallet destroyers, although this was a great example of what Pinot Gris can do.
Producer: Domaine Mersiol
Designation: Grand Cru Frankstein
Region: France
Sub-Region: Alsace
Variety: Pinot Gris
ABV: 13%
Vintage: 2005
Tasted: May 16, 2012
Price: $40 (Liberty)