Bodily fluids of Bacchus: Alvear Solera 1927 Pedro Ximénez Montila-Moriles
Tasting Note:
Eyes: clear, deep brown, legs
Nose: clean, med+ intensity, fully developed, prune, fig, treacle, sultana, raisin, cola
Mouth: luscious, full body, medium fortification, med- acid, med+ intensity, prune, molasses, brown sugar, sultana, fig, treacle, raisin, med+ length
All in all: Outstanding quality: the wine has some form of balance despite the luscious nature, and the wine is intense and concentrated without letting the sugar shine over the complex prune and treacly flavour components. Drink now, not suitable for ageing.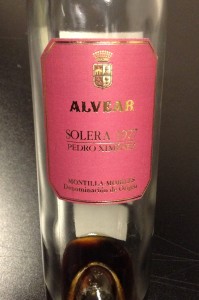 [Tasted during WSET Diploma class – Section 2 – Week 7]
Holy unctuousness. If Bacchus ejaculated, the result would be this exact Pedro Ximénez, which would swimmingly land onto a delicious 2-scoop island of vanilla ice cream. And I'm not going to act like I offended anyone with that comparison, because it seems to me that Sherry isn't doing so well in the global market anyways – so I'm sure I've attracted at least one freak with that sentence, and at least I'm helping the Sherry market.
I've already suggested a pairing of Palo Cortado sherry with some Katy Perry, and some Amontillado with some Dave Brubeck. So this is obviously just the next best comparison that I can make.
But really – it's hard to articulate the complexity of something so seemingly direct in its character – because it really is a concentrated mass of viscous dried fruit, raisins, fig, and treacle, that floozily spreads itself onto your palate. But it's outstanding, and it's a pretty cool thing.
It's tough because it's not something you want to buy alone, since it's a liquid equivalent of a rucksack chockfull of Ritter Sport chocolate bars. I've never tested this popular PX-on-ice-cream sort of idea, but I can deliciously understand it. It just sucks that sweet wine is just as démodé as something like sherry, so there's this doubly unfashionable thing.
Producer: Alvear
Designation: Solera 1927
Region: Spain
Sub-Region: Montilla-Moriles DO
Variety: Pedro Ximénez
ABV: 16%
Vintage: NV
Tasted: February 19, 2014
Price: $30 (375mL)