"Blue Rondo à la Turk" – Dave Brubeck: Gonzalez Byass "Viña AB" Amontillado Seco
Tasting Note:
Eyes: clear, med+ gold, legs
Nose: clean, med+ intensity, fully developed, grilled almond, burnt almond, nut dust, brine, earth, mineral, yeast, dough, spice, brandy, hint of caramel, olive
Mouth: dry, med+ body, med acid, medium fortification, pronounced flavour intensity, brine, grilled almond, burnt almond, dough, salted almond, long length, savoury
All in all: Very good quality: This Amontillado is exuberant and concentrated with poised balance and a lasting finish. The aromas and flavours have a moderately complex focussed thread. Drink now; not suitable for ageing.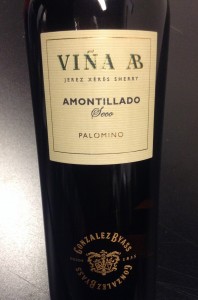 [Tasted during WSET Diploma class – Section 2 – Week 7]
Dear lord. This was the one I had to read out my notes for. Thankfully, you can almost always get away with reporting some form of "nuts" with sherry – then you have to work your way from there. I guess my nose descriptor of "nut dust" is a bit of a stretch, but at the time it seemed appropriate though I didn't read that out loud for obvious reasons.
Amontillado is essentially an aged Fino, which, from the blanched salted almond sort of baseline, gradually moves into the grilled or burnt almond sort of range. So you get a bit of a nuttier sherry than Fino without relinquishing the savoury brine characteristics. Typically dry stuff, though some Amontillado can be backsweetened with sweeter wine. Though I believe that stuff isn't allowed to be called "Amontillado" anymore (i.e., that Alvear Medium Dry stuff which used to be called Amontillado).
This shared some characteristics to the first wine in the flight, which was a Palo Cortado – while that one had a gorgeous grilled nut nose that wrapped around a small gem of briny salt, this Amontillado seemed just as expressive but a bit louder in its Fino-esque characteristics. I remember there being much more apparent brine aromas – there were some notes of "olive" reported by some classmates. There was also a bit more of a doughy almond pastry note along with a hint of a caramel-like aged brandy note.
This was probably the most flamboyant in the sherry flight, with an awkwardly awesome sort of charm to it – very much like a jazzy number with a seemingly maladroit time signature which ends up being sort of cool.
So far, I've paired sherry with Katy Perry AND Dave Brubeck, and it makes you realize how specific yet broad the subject of sherry really is.
Producer: Gonzalez Byass
Designation: "Viña AB", Seco
Region: Spain
Sub-Region: Jerez
Variety: Palomino
ABV: 16.5%
Vintage: NV
Tasted: February 19, 2014
Price: $33