40-year-old trying to be 18: Croft Original Cream Sherry
Tasting Note:
Eyes: clear, pale lemon, legs
Nose: clean, med- intensity, developing, aldehyde, brine, blanched almonds, green apple, hint fruit
Mouth: medium-dry, med body, med acid, med fortification, med- flavour intensity, aldehyde, slight nuttiness, blanched almonds, med- length, apple, honey
All in all: (Acceptable to) Good quality: there isn't enough intensity of flavour to balance out the sweetness nor is there much character on the finish, but the wine has some level of concentration despite the low fortification. Drink now, not suitable for ageing.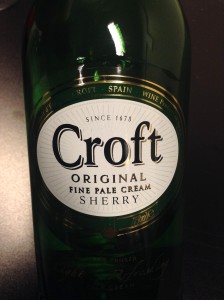 [Tasted during WSET Diploma class – Section 2 – Week 7]
Nothing against 40-year-olds trying to feel young. But this has a bit of that simple dry blanched almond nuttiness attempting to round itself out and add drinkability factor with sweetness from what I'd guess is sweet Pedro Ximénez wine. And it all comes together to make this sort of promiscuous and young depthless thing.
There was a bit of concentration and balance to it, though, so I'll give it that much. More notably, there was a bit more fruit than the other sherries in the flight. This isn't saying much because there was just a mere whisper more of some vague apple-like fruit which also showed on the palate. This sherry in particular has a bit of a market presence, moreso in the UK, so it's doing its job.
Watch me become this wine, as I'm blogging about sherries in my ripe young early-20s years instead of going out during spring break. My friend just invited me out to a bar in the late afternoon and I'm just going to have to grudgingly accept just to average the age that my activities dictate.
That, or sherry is going to become the new young thing. Can it? Please?
Producer: Croft
Designation: N/A
Region: Spain
Sub-Region: Jerez
Variety: Palomino, Pedro Ximénez (I'm guessing)
ABV: 17.5%
Vintage: NV
Tasted: February 29, 2014
Price: $17.95