Somewhere in-between "summer hipster barbecue shindig" and "sunny debonair yacht party": Bodegas Hidalgo "Pastrana" Manzanilla Pasada
Tasting Note:
Eyes: clear, med gold, legs
Nose: clean, med intensity, developing, blanched almonds, yeast, hint citrus, hint green apple, yogurt, brine, savoury, mushroom
Mouth: dry, med- body, med acid, low level of fortification, med intensity, salted almond, yeast, yogurt, med+ finish, savoury
All in all: Very good quality: the pungent aldehydic character is balanced, concentrated, and refreshing. The moderate complexity and hints to green fruit persist on the finish. Drink now, not suitable for ageing.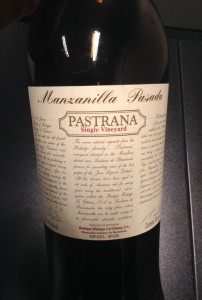 [Tasted during WSET Diploma class – Section 2 – Week 7]
Manzanilla is an interesting subsection of Fino sherry, where wines are aged on the coast at Sanlúcar de Barrameda, where higher humidity yet a cooler maritime weather encourages thicker flor growth. This results in even more pungent fresh and briny aldehydic flavours than your typical Fino. Pasada versions like these ones occur from a bit of age (where flor dies off), but some versions can have drastically higher alcohol than this one. Cool. Onwards!
Sherry has this aged and old-person blasé sort of connotation, but there was something about this wine that was somewhere in-between "summer hipster barbecue shindig" and "sunny debonair yacht party" (do you hate me yet?). And it's weird, because this sherry doesn't have an overt loudness to it, but has more of a briny sparkle that speaks more with its savoury character.
Sherries on the Fino side of the spectrum really should make you crave summer, but it's so weird how the combination of flavours do that. I'm not-so-secretly hoping that Manzanilla will be the upcoming underground dinner equivalent to PBR, and Jerez will have no one but me to thank. Or maybe not.
Producer: Bodegas Hidalgo
Designation: "Pastrana"
Region: Spain
Sub-Region: Sanlúcar de Barrameda, Jerez
Variety: Palomino
ABV: 15%
Vintage: NV
Tasted: February 19, 2014
Price: $37.65