"When I Come Around" – Green Day: NV Jansz Premium Cuvée
Tasting Note:
Eyes: clear, med gold, bubbles
Nose: clean, med intensity, youthful, mineral, citrus, hint herbaceous, stone fruit, peach, mineral, floral, apple, pear, slight toasty and yeastiness, "bread and butter"
Mouth: dry, creamy mousse, med body, med+ acid, med+ flavour intensity, citrus, lemon, green apple, hint of stone fruit, peach, hint herbaceous, med length
All in all: Good quality: though not super complex or persistent, the wine is balance and the mainly fruity (but not jammy or confected) flavours, combined with a bit of yeastiness, are quite expressive. Drink now, not suitable for ageing.
Identity Guess: Mid-priced Non-Vintage New World Sparkling.
Is really: High-priced Non-Vintage Transfer Method Sparkling from Tasmania, Australia.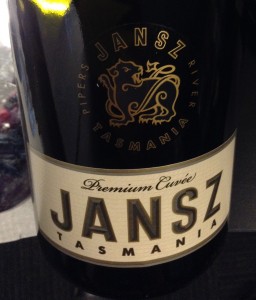 [Tasted during WSET Diploma class – Section 2 – Week 5]
This was the fruitiest in our first flight of four wines – and an interesting transition from the vintage Champagne, the non-vintage Champagne, and the vintage Franciacorta. We then flipped to this Australian sparkling, which I think is made in the transfer method.
Much like the Franciacorta, this was a bit of a departure from the green apple-y fruits of Champagne and more into the citrus and stone fruit sort of spectrum, with hints of herbaceousness, toastiness, and yeastiness. Tastes like happy and yum! I can understand how this might be seen as a bit simple but it seems crafted well. Pair this with a happy-go-lucky bubbly Green Day song.
I'm generally unfamiliar with this style of wine, so I guessed something that might be dominated by Pinot Noir due to the slightly more fruit-forward visage (Blanc de Noirs?) but there wasn't enough austerity, general yeastiness, or green fruit that lead me down that path. It was bright enough to have me guessing a Crémant, but I axed my second guess and went with a New World sparkling. From where? Not even sure.
The wine wasn't super complex but was interesting enough for me to want to try the rest of the wines in their lineup.
Producer: Jansz
Designation: Premium Cuvée
Region: Australia
Sub-Region: Tasmania
Variety: Chardonnay, Pinot Noir
ABV: 12.5% are what sources say – but the current bottle says 12.0%
Vintage: NV
Tasted: February 5, 2014
Price: $30